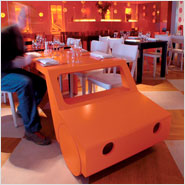 Where did the inspiration for Praq come from? Here's how Frank Tjepkema, the restaurant's designer sees it: "There are already a lot of places for childrenólike McDonald'sóbut nothing for parents," he says. Especially parents who go to trendy places, because those places are not meant for kids. And the children's places aren't meant for trendy people."
Tjepkempa, who's Dutch, designed a restaurant for trendy people with kids who run around. There the tables looke like cars, the banquettes make little tunnels, there's a pegboard wall and an art table. Now word on the food, but who cares? You're just going to go to the bathroom and puke it up afterwards, right? [Can you tell it was fashion week in NYC this past week?]
Check out Praq, it's on Amsterdam and...um, ok, it's in Amsterdam. No wait, it's outside Amsterdam, in Ouderkerk aan de Amstel, somewhere between Schiphol and..OK, face it. You're not going there. There's a Burger King at the airport. Just give the kid some fries and get on the train.
Praq, a trendy restaurant in Holland you'll only read about, designed by the guy who also made that sweet bling bling thing that went around the blogs last fall. [metropolismag]
the bling bling thing, from 2002 [Studio Tjepkema]