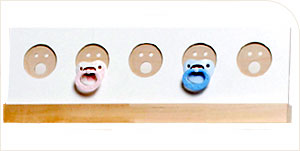 "Dummies seem to be always lost, so here¥s a solution to keep them in one place!"
While you scare yourself imagining how the Dutch might solve this this problem, let me tell you that in Finnish (i.e., British) English, a dummy is a pacifier. [In case you're going on EU Jeopardy, the Finnish word is tuteille.]
So for Seimi, a dummy stand is a little wooden rack that you can slot pacifiers into so they don't go missing. It's a simple, useful idea, and it fits on the Seimi Murphy Bed-style fold-down changing table.
I'm sure it'll never be available in the US, but that's fine. Around here, dummies are NEVER lost; they're either in your coat pocket, or they're under the far side of the crib. Seriously, my wife fished out five the other day.
Dummy Stand, from the Seimi Baby Collection [seimi.fi]