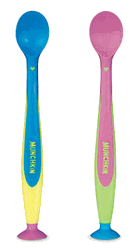 The business ends of these colorful plastic spoons from Munchkin--like absolutely everything else you'll ever buy during the next ten years, they're available in pink and blue--turn white if the food in them is too hot for baby's wittle mout', which makes me wonder what we're doing wrong by never feeding the kid hot food.
Until now the way we could tell if the food was too hot was if she immediately dropped it and recoiled in pained sobs when we'd give her a pizza crust. Sounds like it's on to Plan B.
I'm interested to know how/why the suction cups on the end, though. Used vertically, wouldn't the food run down the handle? And used horizontally, wouldn't they ressemble the kid's new favorite toy, a boingy doorstop?
Temperature-sensitive White Hot Infant Feeding Spoon from Munchkin, $3.49 for two at Pallets [kidsurplus.com, via cool tools