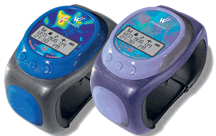 It's time to update our stereotypes about individual GPS tracking. The image of a white-collar criminal with an ankle bracelet is just too narrow, too Nineties--and too non-profit--to capture today's convenient, feature-rich pervasive surveillance marketplace.
Take, for example, the "GPS Locator for Kids!" from Wherify, which Parenting Magazine called "the latest must-have." These fashionable watches come in two colors, "Galactic Blue" or "Cosmic Purple," and can only be removed with a special parental key fob locking device. Depending on your service plan--you can choose among Liberty, Independence, Freedom, and High Usage (what, Patriot was already taken?)--you can check your kid's location up to 80 times/month via the Wherify website or 1-800 number.
The GPSLFK! also allows you to "breadcrumb," i.e., stalk, your kid's movements, either by setting up "appointments" to see if they're located at specific places and times, or you can track them with a series of periodic pings. Kids can activate a panic 911 feature whenever there's an emergency--or whenever they want to rack up a $15 charge on their parent's bill. But isn't that a small price to pay for enabling your children to feel that you'll always be watching them and literally tracking their every move? Why not give your child his first taste of "Freedom" or "Liberty" today?

Buy the Wherify GPSLFK! for just $199, plus $20-45/month, each [wherify.com, via cameron]
Psychology Today tests the Wherify, but not its effect on kids [psychologytoday.com]