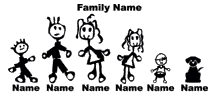 From the TMI Department by way of boingboing comes Stick Family Robinson, a customized collection of stick figure stickers for your car that allows you to telegraph the makeup and personal information for your entire family to the entire world.
The stickers are popular in California. Apparently, it's a trend that started in Mexico, where the stickers have improved kidnapping efficiency and accuracy by 28%.
While you could argue that ugly and stupid is empirically worse, cute and stupid probably gets in more trouble. One potentially useful application of this: when you get into your minivan at the mall, you can compare your entourage against the Stick Family Robinson to see if you've picked up or lost anyone.
Create your custom Stick Family sticker [Carstickers.com, in Ogden, UT. For a sweet hack, see if they'll let you make one with 2 daddies and 1 Asian baby girl, or with 1 daddy, 3 moms, and 15 kids.]
Stick Family Robinson, each sold separately and thus, infinitely configurable to match any family composition [Grafittiworx.com]