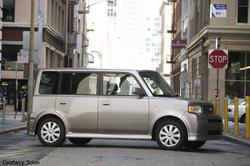 There's a hi-larious insurance commercial where a young black guy is trying to fit a giantic car seat into the back of an old Volvo coupe as his very pregnant lady watches on. When he gets himself wedged in and pressed up against the window, she says, "Should I call my dad?" and he shouts "No!" I'm reminded of this 1) because we have an old coupe that's bigger than the Volvo, but still requires some acrobatics to get the car seat in and out, and 2) because Edmunds.com published a list of the top 10 cars for using a car seat, and there's not a single coupe on it.
As you'd expect, deep, flat seats, wide door openings, proper belts, and a close reach from the front seats are all key criteria for deploying a car seat.
What I didn't expect was the boringness of the cars on the list: there are two minivans, one mini-SUV, five US manufacturer cars I don't know or care about, two boring old-standbys(Accord and Camry)--and the Toyota Scion xB.
Now I'd imagined if you asked Toyota's target xB customer if he had any kids, he'd look up from polishing his spinners and be all, "heh, not that I KNOW of, bro." Scions--especially the xB are marketed as stripped down bases for tuners who'll presumably work double shifts at Banana Republic to buy and install LED versions of the accessories most people think of as standard equipment.
But even though I'm probably already twice as old as some Scion drivers (at a measly $15,000, it's being pitched as the perfect first--or fourth or fifth car), I have to say, I'm tempted to try one out. It's goodlooking and seems like the perfect cool, no-nonsense car to drive around the city.
Top 10 Cars for Kids in Car Seats [edmunds.com]
"Old" people buying cars originally meant for Gen Y [forbes.com]