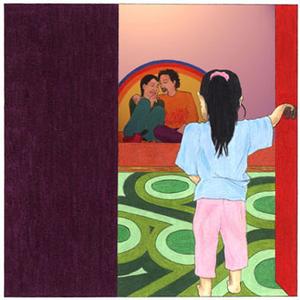 "One night Jackie woke up past her bedtime.

She smelled something funny in the air,
so she walked down the hall to her parents' bedroom"
From the book's website, where you can order
It's Just A Plant
at a special pre-publication price: "Many parents are not comfortable discussing marijuana use beyond 'just say no.' Some have tried marijuana themselves. Others fear that any discussion of marijuana falling short of outright denouncement may be perceived by their children as permission to try it on their own. In short, parents have few sources of information that puts the safety of their kids before politics...
It's Just a Plant is for parents who want to be involved in discussing and educating their children about the effects, the dangers and the benefits of marijuana."
Now I'm not a smoker of anything, nor even an eater of magic brownies, so I'll let you high flyers out there wrestle with this one on your own. Meanwhile, be sure to let me know when they come out with It's Just A Drink: Explaining Diet Coke To Your Children.

It's Just A Plant [via waxy.org]