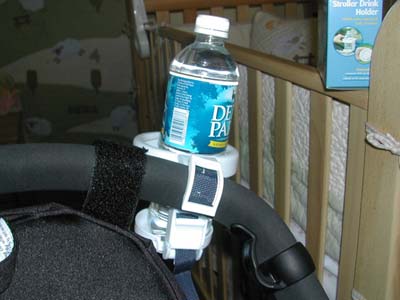 DT reader and dad-to-be Steve Chapman has been spending the last few days of his care-free, child-free life in his workshop, where he has been trying to make a better Bugaboo drink holder.
His solution, which won't undergo field testing until the "bam-bean-o" arrives, is the Safety 1st Fold-up Stroller Drink Holder, which is available just about everywhere for $2.49 (it's even less at BabyAnt.com).
Sure enough, it holds a drink; but how does Steve propose to meet the all-important "no shop class projects on my designer stroller" criteria?
Steve replies, "I just recently read about spray paint that's made specifically for plastic from Krylon. I just can't decide if I would want to paint it maroon to match the Aubergine or just basic black."
I'd go for black myself, but hey, for $2.49, you could do both.