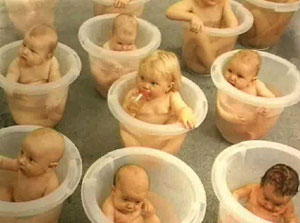 While most Dutch are revolutionizing stroller design, others are busy improving that grand European tradition of finding new ways to be naked in large groups. And in order to be totally comfortable flashing the French on a Riviera vacation, it's important to start young. That's the lesson I learned from DomoVital's instructional video for The Tummy Tub.
The Tummy Tub is basically a bucket for bathing your kid while he relaxes in a fetal position. It's soothing, less stressful, the water stays warmer longer, and it's apparently fun to do with all the neighbors. DT reader Florian just got back from visiting Germany, where the Tummy Tub is all the rage.
Issues: While the video's bureaucratically reassuring narrator is male--as are many of the Tubbers--giving a kid a bath is still shown to be mom's job. Also, I'd like to see how easily that thing tips over. My rambunctious bet is, when that Tub's a-rockin', you'll soon be moppin'.

The TummyTub∆ [DomoVital GmbH]
Buy the Tummy Tub at about a million places online, like Canadian Child Birth Teaching Aids, but you'll almost always be spending $US30 to ship a $US29 bucket.