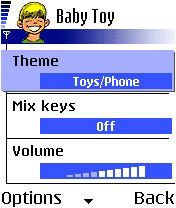 Hey, when chewing on my cell phone is the only thing that quiets the kid down, 9 times out of 10--ok, maybe 7 times out of 10--I'll let her have it. In the most desperate moments, goo-soaked keypad and potentially non-functioning charger ports seem like a small price to pay for a bit of quiet.
Now, though, the fine folks at Mobile Baby Toy think you should turn that phone over to the kid all the time. And not just any phone, but your new SmartPhone, the one running the Symbian OS and Nokia's Series 60 software platform.
Mobile Baby Toy is to mobile phones what Babysmash is to computers: it transforms all the keys into random sound- and image-generating playthings, while closing off the possibility for disastrous deletions or screwups. It comes with various themes: cartoons, wildlife, bambino, and--to build brand loyalty, you understand--a mockup Nokia interface. No mention of drool protection, however.
Download the software to your Nokia or other Series 60 phone for a trial period, buy it for Ä9.95, and kiss your phone goodbye.
Mobile Baby Toy [via sparkability]
Previously: On Kids On Laptops--Babysmash [DT]