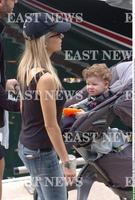 If there's even a slight fluctation in The Stroller Force, Patty at Baby Chic 101 can detect it. How else could she know of this photo of Russell Crowe and his wife, pushing his moptop kid Charlie in a grey-on-grey Stokke Xplory along Sydney's Finger Wharf where they live?
Judging by the size of that laundry bag strapped underneath, the Crowes' $AU14 million penthouse doesn't have a washer and dryer.
Note: if you want a grey/grey Xplory, good luck. Technically, they DO sell the frame and upholstery separately, for $549 and $199, respectively. You could try and buy the padding from Europe somewhere. But it's not like you won't be distinctive enough with a standard-in-the-US color. Or that the grey'll make you all inconspicuous...
[Update: Patty says she saw the picture in Us Weekly, whatever that means. Still sounds like The Force to me.]