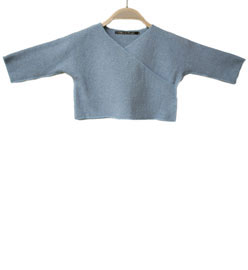 We'd almost given up ever finding any black baby clothes, then yesterday, we found a whole whole world of them.
The kid's godmother had recommended Estella, on 6th Ave at 12th St, to us for months. I have to say, it's one of the most consistently cool, well-thought-out baby clothes stores I've ever seen. There was TONS of cool stuff, but not gratuitously cool; it looked comfortable, well-made, and distinctive, but not in a cutey cute way.
The total standout was an Italian brand called Album di Famiglia. Very minimalist, but comfortable-looking, in muted city colors [definitely not shown here]. The lady said they wear great, hold up in the wash, etc. We would have bought the hooded, mittened, footed jumper in strong, soft black felt in two seconds, but they didn't have the kid's size. And Estella may be the only one in the US who carries it.
The store's site invites you to "Forget Peter Pan collars and smocked party dresses," [which we'll happily do] and "imagine your clothes, only smaller." Um, not to rain on your excellent marketing parade, but isn't that the same disastrous impulse that gave the world both Mini-me and Jon Benet? Somehow it's OK if you work in an architecture office?
Anyway, when's the last time you wore a black felt hooded jumpsuit?
Estella, 493 Sixth Avenue [estella-nyc.com]
Album di Famiglia stuff at Baby Closet [UK] for...one MILLION dollars.