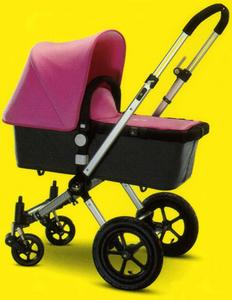 I don't know why Bugaboo spells its new model, the Cameleon, without an 'h'. Maybe it's those rumors I've been hearing about foreign countries, how they have differn't words for everything. But enough of that crazy talk.
What's important is the radical new design and wealth of new features that the Bugaboo Cameleon offers over the suddenly-so-10-minutes-ago Frog. And that is, well, it's now available in Pink. Or Green. But not Pink and Green. And not Eggplant.


Yes, the most visible change is a new variety of color configurations. The Frog's interior/exterior fabric options have been replaced with what's called Standard/Extra fabrics. And the Extra fabrics are now a water-repellent fleece.
Even though it's called a Cameleon, there's no hint yet that you can buy multiple fabric sets so you can, you know, change your stroller color to match your outfit.
Or pimp out your Frog with Cameleon colors. The Cameleon site mentions a "larger seat/bassinet frame" and "longer wheelbase" but doesn't give specs or talk about backward compatibility. They're not just in the seatcover business, though, so I doubt it.
Other than the color and fabric changes, and possible dimension tweaks, the other noticeable changes are refinements, not breakthroughs: an extendable-length handle, a better-positioned brake, and for the bassinet, a new "German TUV tested Aerosleep matras" [again with the wacky non-American spellings!].
No word as yet on accessories, availability, or pricing, but I'm sure that, given the strength of the US Dollar these days, it's best to just get a Cameleon in every color.
Visit the Official Bugaboo site for updates
[12/1 update: Bugaboo US contacted me and asked me to remove the previous links. Apparently, it's jump-the-gun season in The Netherlands.]
Not related: A Chameleon finds a, um, Daddy Type