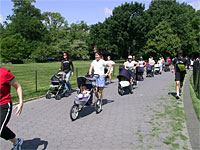 Doing deep lunges while pushing the kid around in a stroller may be the best post-pregnancy workout ever, who knows? Get out of the house, bond with the kid, &c, &c. And officially, "partners and husbands" are welcome and can attend free with a woman's STROLLERCIZE∆ membership.
But am I going out on a limb here by saying that if a guy actually went to STROLLERCIZE∆ , it would be one of the most awkward, self-conscious exercise experiences you would have (and share with up to 15 women)?
On the other hand, maybe you'll score MAD points at home, in which case, it might be worth it. Only you can judge.
STROLLERCIZE∆ in Central Park, all around town, all over the country.