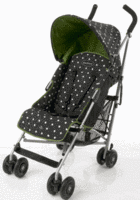 Is this the second limited edition stroller Kate Spade designed for Maclaren? To be honest, I wasn't following stroller fashion too closely before the kid penciled herself into our calendar. But I remember a distant buzz about it among our baby-having friends. It was a regular mid-line model with special, striped Spade fabric.
Now another Kate Spade Maclaren is here, and it's the same thing, only with polka dots. It's a Quest, the mid-range Mac, which costs as much as a Techno ($300). There's never been a starker tradeoff of features/function and fashion, and I think it's kind of cruel of Maclaren to put men in the position where they have to choose between protesting a clear fashion choice or pushing what's essentially a tasteful, middle class version of the Precious Moments stroller.
Now if there's ever a Jack Spade stroller, let me know.
See more about the Kate Spade Maclaren strollers at Amazon.
Or get the Techno XT for the same price, or the original Quest for a $100 less.