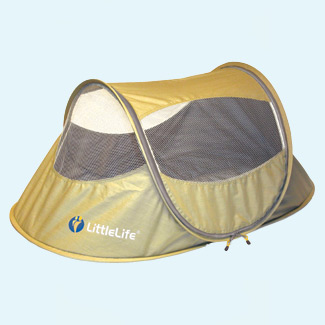 While my nose has been buried in Japanese diapers, the UK has apparently been overrun by springloaded travel beds that fold up "as small as a dinner plate."
Baby Chic 101 (a new blog with enough baby designer links to put even the most acquisitive parent into a shopaholic coma) points out the Samsonite Safari Travel Cot at Urchin, which looks remarkably similar to the pop-up travel bed below it which sells for 8 quid less. [Urchin'll ship to the US; email them for a quote.]
While both of the Urchin beds [heh] retain a traditional bassinet shape, Littlelife breaks away with its unabashedly tent-like Compact Travel Bed (above). Their Twin Arc Travel Cot is even cooler, but alas, it's bigger than a dinner plate; I shouldn't even mention it here.
Littlelife also make a range of child carriers and outdoor equipment, which makes me think the company was started by a couple of serious hikers who suddenly found themselves with an urchin or two of their own, and so they had to figure a way to get out of the house again.