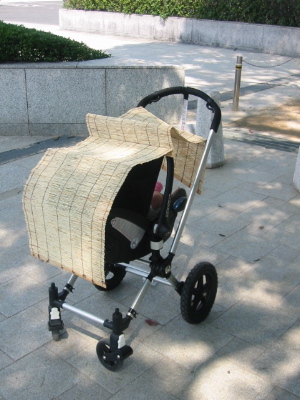 It's too sunny and too hot for the kid to ride around in a stock Bugaboo/Maxi-Cosi carseat. The pullout shade doesn't cover her legs; the black carseat soaks up heat; and there's no ventilation, either.
So I jury-rigged a solution that has embarassed my wife, turned more than a few Japanese heads, and kept the kid reasonably cool. I bought a bamboo-looking blind and draped it across the handle of the carseat, then over to the Bugaboo handle. For good measure, I draped the other half over the carseat itself.
I look ridiculous, but I think I look cool, probably the worst combination there is.