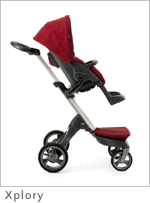 A scoop from DT informant Pierre- The Stokke Xplory stroller is now at Buy Buy Baby in NYC.
According to my in-store source--I report, you decide to buy--a demo model came in last week, and they've begun taking names and numbers for the first shipment, which is expected "possibly within two weeks or so." [Update: you keep on waiting. I talked to the Stokke corporate folks, who said deliveries start in October. Sounds like we got a long, hot summer comin' our way.]
The source said the guys who set it up had to check online for info and instructions because they haven't received any official info from either the store or the company. Brochures and catalogs are in now, though, and they expect to have at least two of the three available colors, including red.
Xpected price: around $747. Although other retailers are expected to carry the Xplory, too, for now, the only Buy Buy Baby location carrying it is in Manhattan. Their phone number is (917) 344-1555.
I'm with Pierre, who says, "Can't wait to see the reaction of the urbanbaby.com stroller mafia!"
Related: Search Daddy Types for other Stokke Xplory-related posts