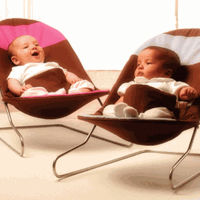 Modernseed is selling this paper clip-looking bouncing chair for kids up to 18lbs. It comes in--surprise--pink or blue. It's very goodlooking, if a little more design-y than the solid navy blue Bjorn Babysitter. It's not adjustable.
Brooklyn-based French designer Sophie Demenge created it for her new baby company, Oeuf.
It'd match your ismodern blanket.
$110 at modernseed.com.
Check out the Oeuf main site [OeufNYC.com]