Dads should be the greatest beneficiaries of the Diaper Genie's magical powers. Even if you don't change every diaper (Remember EBB?), you're still probably the one to take out the trash.
If that's the case, Playtex's Diaper Genie, like so many products in the baby industry, is designed against you, not for you.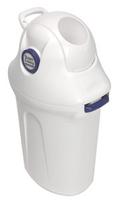 [Quick Diaper Genie Primer: you feed dirty diapers into a customized, tube-like garbage bag, which you twist after each one. When the underlying garbage can is full, the Genie slices the top, and you catch a long, largely odor-free linked sausage-looking chain of diapers in another garbage bag, which you then drop in your neighbor's garbage can. In the middle of the night.]
The Genie supports the diaper changer's stuff-and-twist process OK (remember, for baby companies, diaper changer=mom). But then some trash-taking-dad-hating Diaper Genius put the lid on the bottom, and it is an awkward pain in the butt to empty the thing and reset the bag.
So why not get something else? There's the Diaper Champ from BabyTrend [shown here], which has one-handed operation and which uses regular garbage bags. According to Amazon, "People who bought" the expensive, incompatible Diaper Genie liner refills also bought the Diaper Champ. Do you think it's because their Diaper Genie sucked?