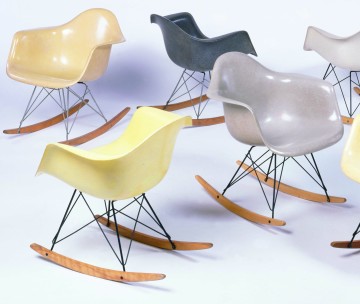 Few things turn a design-conscious parent-to-be's stomach more than the idea of having to get some fugly rocking chair. Still, you've heard it before, but let me say it again from this side of parenthood: you want a rocking chair. You'll want one so bad, it almost won't matter if it looks like you bought it off a trailer porch in some Appalachian holler.
One classic modern solution--the Eames shell rocker, formally known as the Eames RAR Rocker--has a historical connection to new babies. The original manufacturer, Herman Miller, used to give one to employees on the birth of their child.
Here's a quick look at the options for buying one:
To collectors, an original fiberglass armchair, with its original wireframe/wood rocker base is the most desirable--and most expensive option. They can run from $700 on Ebay to $1200-1500 in a vintage furniture store, depending on the condition, color, year, and the presence of original stamps and labels or repairs. If you're a design purist, this is probably your best bet, even if it's not the most practical option.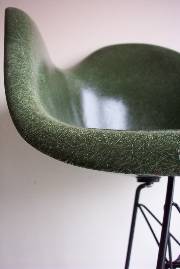 A more user-friendly and slightly cheaper route is to buy a vintage shell with a new, reproduction rocker base. The trick here is getting a well-made base, as close to original specs as possible. There are definitely some cheap-ass, thin-gauge wire bases out there, and you don't want them.
The third option is the modern manufactured rocker. A few years ago, the LA-based Modernica bought the original Eames shell molds from Herman Miller. But since they didn't buy the rights to the name, their Arm Shell Rockers are technically "Eames-style." That detail aside, the Modernica rockers come in a broader array of colors and are a pretty reasonable $349 or so. They're also available at Modern Seed.
If you buy vintage, get smart on the variations, and value factors. Talk to a serious vintage dealer or two, and familiarize yourself by seeing as many chairs in person as you can.
You'll be tempted by Ebay's near-wholesale prices, but don't get snookered; a lot of chairs at auction are from random flea market pickers who don't know what they don't know about repairs, vintage, or proper value.
After several months of tracking, searching, and researching, we opted for the vintage shell/new base combination, and we love it. Along the way, I found a couple of really solid Eames experts who sell on and off Ebay at fair prices, and who had a consistently good eye and supply of chairs:
Modernlove is a hipster Canadian with exclusively crafted rocker bases and who loves finding pristine shells in rare colors.
And Modern50 is a hard-core Eames dealer near Washington DC (and online) with an impressive stock that always includes rockers. When we found a shell we liked, he happily swapped bases for us. Now it rocks.