<!form method="get" action="http://dt-go.com/cgi-bin/mt/mt-search.cgi"> <!input type="hidden" name="IncludeBlogs" value="3" /> <!input type="hidden" name="Template" value="daddy" /> <!input id="search" name="search" style="width: 270px; height: 15px;" /> <!input type="image" src="http://daddytypes.com/search.gif" height="18" width="159" border="0"> <!/form><!br />
Citroen Kar-A-Sutra Had Room For Seven Horny Mimes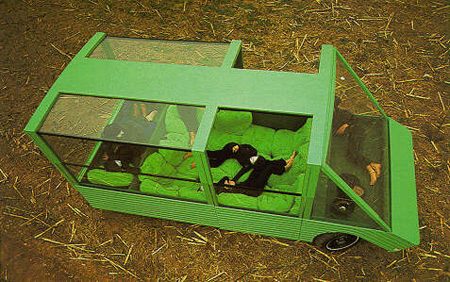 Mario Bellini created the Kar-a-Sutra as a collaboration for Citroen and Pirelli in 1972. It was first exhibited at a groundbreaking show at MoMA that introduced Italian modern design to the US, Italy. The New Domestic Landscape.
Not just a car, but a "mobile human space," the Kar-a-Sutra was designed to be more than a living room on wheels, though it was that. It had panoramic glass and soft seating for seven that was configurable into either conversation pits or beds. The corrugated body panels evoke two classic Citroen designs, the lumbering HY van, and the awesome little Mehari, Citroen's pared down answer to the VW Thing.
One sketch on Bellini's site seems to show a sliding rear tailgate/rear sunroof that reminds me of the Studebaker Wagonaire. But in the actual car, the demo mimes are just opening a typical hatchback.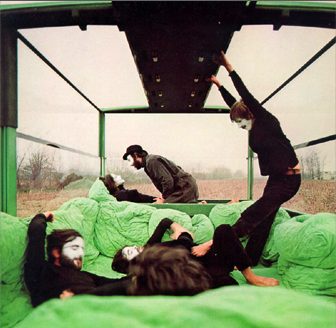 That's right, the whole rig was being modeled by mimes. Groping, PDA-happy, black cords-wearing mimes. Which makes the loss of the original concept car a little easier to accept; at least some poor restorationist doesn't have to worry about removing mime love stains from the original upholstery.
Mimesex notwithstanding, the Kar-a-Sutra's prescient design makes its relative invisibility online all the more confusing. Especially when you consider that the car was recreated last fall for a Bellini-designed exhibition on the 70's at the Triennale di Milano. So far, I haven't seen one picture of the mime-free replica, which was reportedly grey, not green, and filled with transparent mannequins.
Kar-a-Sutra stats and photos at Mario Bellini's studio site [mariobellini.com, found via iso50]

posted May 27, 2008 12:02 AM | add to del.icio.us | digg this
<!something is wrong with my adserver, so until I fix it, no ads>