<!form method="get" action="http://dt-go.com/cgi-bin/mt/mt-search.cgi"> <!input type="hidden" name="IncludeBlogs" value="3" /> <!input type="hidden" name="Template" value="daddy" /> <!input id="search" name="search" style="width: 270px; height: 15px;" /> <!input type="image" src="http://daddytypes.com/search.gif" height="18" width="159" border="0"> <!/form><!br />
Do You Know Who Makes This Molded Ply, Fold-Down Changing Table?
Someone emailed me recently asking if there were any cool fold-down changing tables. The Man On The Television says you should just make one yourself. [Frankly, after seeing the results, I'm not convinced. "Wasted Spaces"?? You could dock an aircraft carrier in that supposedly unusable space. We've got people turning hat closets into offices into nurseries in the city; what's with you suburban people?]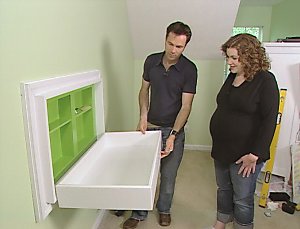 But then while poking around the Novedad! section of Catalan-only website of the Barcelona kids store Nobodinoz, I found this sweet, fold-down jobber made of molded ply. Judging from the accessories shown here, it's designed for giving your baby an invigorating, exfoliating sea salt rub. But I bet you could use it to change a diaper as well.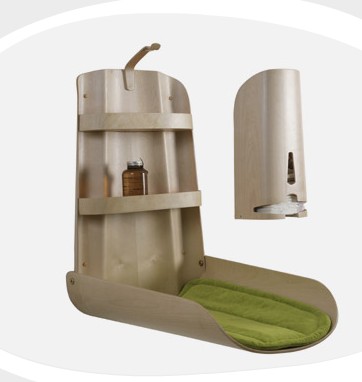 I'd tell you who makes it, but--Idontnoz! Because Nobodinoz didn't put any captions on the damn thing. Ayuda me, por favor!
"Wasted Space" - Changing Table [diynetwork.com]
Nobodinoz [nobodinoz.com]

posted February 29, 2008 8:34 AM | add to del.icio.us | digg this
<!something is wrong with my adserver, so until I fix it, no ads>