<!form method="get" action="http://dt-go.com/cgi-bin/mt/mt-search.cgi"> <!input type="hidden" name="IncludeBlogs" value="3" /> <!input type="hidden" name="Template" value="daddy" /> <!input id="search" name="search" style="width: 270px; height: 15px;" /> <!input type="image" src="http://daddytypes.com/search.gif" height="18" width="159" border="0"> <!/form><!br />
ABCWatch: Scott Bennett's Pacific Crib - Mainstream Modern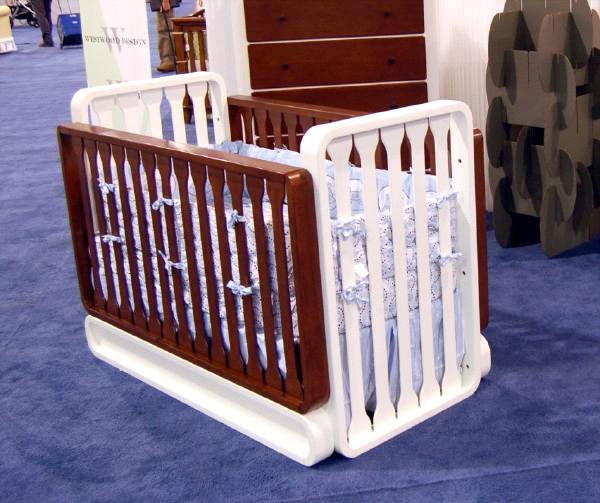 I've been watching Westwood Design's new Pacific nursery collection for a long time now, and so I'm bummed to have missed its debut at this year's ABC Kids Expo. The Pacific is quite a bold design move for Westwood, which is a very traditional, mainstream nursery furniture company, just the kind of company I would have expected to never embrace modernist and contemporary design. And yet here we are.
Pacific's designer, Scott Bennett, is a longtime DT reader and contributor, and I hope I don't get him in trouble by saying he shared renderings of the sweet, curvy Pacific crib over a year ago.
Seeing pictures of the real thing--and hearing how well it was received in Las Vegas, with lots of interest from retailers across the country, not just on the coasts--gives me hope to think that clean, contemporary design may yet find a place in the mainstream culture of this country.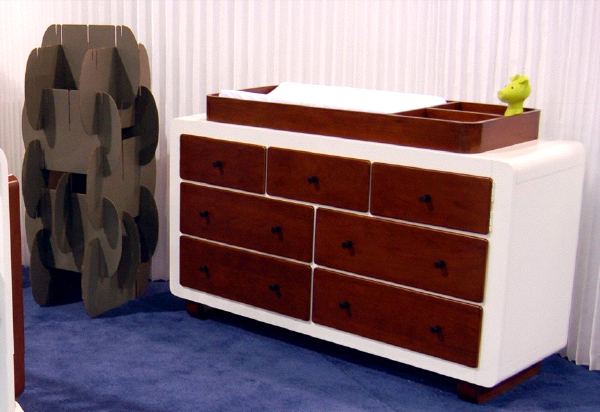 The Pacific--the collection includes a matching dresser and a dresser/changing table--is priced to move, too: the crib's in the $5-600 range, I expect, that sweet spot in the middle of the market where clean design has been so lacking. Multiple configurations--holy smokes, there are 10!--extend the life of the bed well beyond the crib stage, too. Ten, really? Wow.
High five, Scott [now about those crib bumpers...]
Westwood Design: Pacific [westwoodbaby.com]
posted September 13, 2007 11:24 PM | add to del.icio.us | digg this
<!something is wrong with my adserver, so until I fix it, no ads>