<!form method="get" action="http://dt-go.com/cgi-bin/mt/mt-search.cgi"> <!input type="hidden" name="IncludeBlogs" value="3" /> <!input type="hidden" name="Template" value="daddy" /> <!input id="search" name="search" style="width: 270px; height: 15px;" /> <!input type="image" src="http://daddytypes.com/search.gif" height="18" width="159" border="0"> <!/form><!br />
Get The Hell Away From My Kid, Diego! Get The Hell Away! Mattel/Fisher-Price Recalls 1MM Toys For Lead Paint Contamination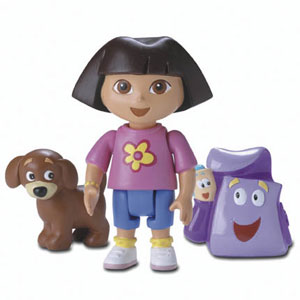 Maybe it would be easier if all the companies left who don't sell hyper-popular licensed character toys contaminated with lead paint could please raise your hand? Anyone?
Fisher-Price, whose Made in America toys we all gnawed on as children, has issued a recal for 83 different toys--nearly 1 million units sold between May and August 2007 [hey, that's today!]--which have dangerous levels of lead. Check the Mattel website for specifics, then get any affected toys away from kids, pronto. They're especially susceptible to neurological injuries and even death from lead poisoning.
Holy smokes, check out the range of products: big and small, cheap and expensive, Dora, Diego, Big Bird, Elmo [lots of Elmo]. The one thing they have in common, though, is paint-on-molded-plastic.
CNN quotes Fisher-Price General Manager David Allmark as saying the recall announcement was
"fast-tracked," which allowed the company to quarantine two-thirds of the toys before they even made it to store shelves. [ed: Wait, so there were originally 3 million contaminated toys, and 1/3 of them sold? Or 1mm toys, with only 1/3 of them sold?

[update: the WP reports 1.5mm total, 1mm in the US, 300,000 on shelves or sold. Also, the lead was discovered by a EU retailer's own, independent testing.]

In negotiating details of the recall, Fisher-Price and the government agreed to withhold details from the public until Thursday to give stores time to get suspect toys off shelves and Fisher-Price time to get its recall hot line up and running.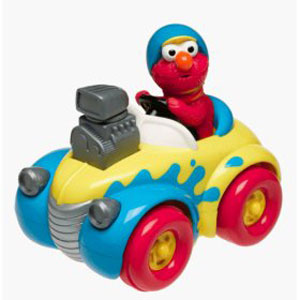 Interesting. Coincidentally, it also gave Mattel and Fisher-Price time to decide
not
to
kidnap and detain the NY Times Business reporter
who came a'calling at their factories in China. Instead, the company cooperated fully, and helped fill the front page story last week with glowing quotes about how, "Mattel is the gold standard," and so much more careful and rigorous and experienced than all those other Chinese-made toy companies. *cough Thomas cough*
Nicely played, Mattel publicists. I smell a business school case study in the making.
Fisher-Price Toys with Lead Paint Hazard Recall
Fisher-Price recalls toys--Big Bird, Elmo, Dora--for lead [cnn.com]
Uh, cheaply and with lead paint, just like everybody else?: Toymaking In China, Mattel's Way [nytimes]
Previously: NYT Reporter Detained at Thomas The Tank Engine Factory
Previous lead paint disasters: Rubbernecking the Thomas Train Wreck
posted August 1, 2007 9:27 PM | add to del.icio.us | digg this
<!something is wrong with my adserver, so until I fix it, no ads>