<!form method="get" action="http://dt-go.com/cgi-bin/mt/mt-search.cgi"> <!input type="hidden" name="IncludeBlogs" value="3" /> <!input type="hidden" name="Template" value="daddy" /> <!input id="search" name="search" style="width: 270px; height: 15px;" /> <!input type="image" src="http://daddytypes.com/search.gif" height="18" width="159" border="0"> <!/form><!br />
Tempest In A D-Cup: Fighting Over There Vs. Over Here Edition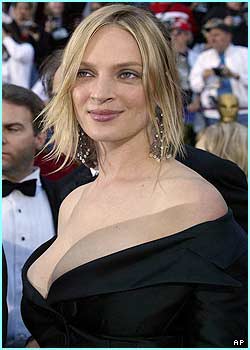 Dateline: Fort Bragg, North Carolina - After a single, anonymous complaint, a mother of three who has breast-fed all her kids in the food court of an Army-owned minimall where she's worked for seven years, was told to stop because it was against military regulations.
Then someone got a freakin' clue, read the regulations which said no such thing, then read the North Carolina and federal laws [federal? really? -ed.] that guarantee a mother the right to breast feed in public, and apologized to the woman [not pictured above].
This being North Carolina, the irony of unaccountable, prudish zealots imposing their morality on someone else while soldiers are abroad fighting religious zealots seeking to impose their morality on someone else was not noted.
In other news--uh, and I use the term loosely--DT reader JJ Daddy-O asks if it's not time to find a new spokesmodel for the breastfeeding cause? And in totally unrelated other news, he continues, anyone know if Britpopper Peter Andre's wife Jordan is breastfeeding?
No idea! But I bet I can tell you where Princess Teaamii's first name came from.

Public Breast-feeding Sparks Controversy [wral.com via lactivist/uma fan lg]
Previously: Two Grandmothers' Names, Both Alike In Dignity
posted July 27, 2007 1:10 PM | add to del.icio.us | digg this
<!something is wrong with my adserver, so until I fix it, no ads>