<!form method="get" action="http://dt-go.com/cgi-bin/mt/mt-search.cgi"> <!input type="hidden" name="IncludeBlogs" value="3" /> <!input type="hidden" name="Template" value="daddy" /> <!input id="search" name="search" style="width: 270px; height: 15px;" /> <!input type="image" src="http://daddytypes.com/search.gif" height="18" width="159" border="0"> <!/form><!br />
Whoa. Netto Crib & Changing Table On eBay - Mint Cond, Man W/Van Not Included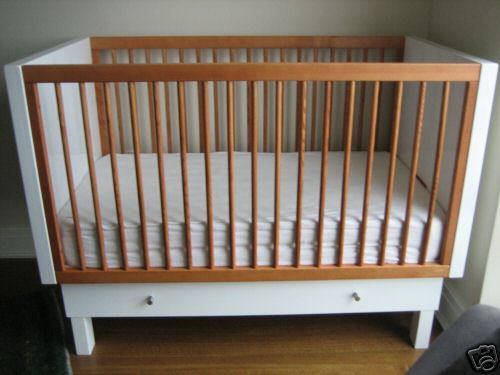 I'll say it again. Whoa. There is a David Netto Loft Collection crib and changing table--the high-end modern nursery furniture that started it all--with an organic cotton mattress, even, for sale on eBay right now, with no reserve, barely a day and a half to go, and the bidding is only $76.
SEVENTY SIX DOLLARS. [update 2hrs later: it's now $205, 93% off the retail price.]
That's cheaper than a car to JFK, people.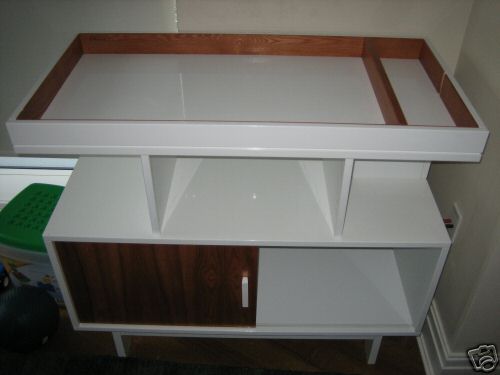 According to the seller, "this set was used in a second home, so they are in mint condition."
Whatever preconceptions you might have had about Netto crib buyers that were confirmed by that statement, you can't dispute that on a mathematical basis alone, second home owners are exactly who you'd want to buy nursery furniture from. Even if the family got away every single weekend, that stuff has seen only 2/7ths the use of comparable pieces. And if you count Augusts in St Trop and New Years in St Barth's, it's even less than that.
The fact that there's no shipping option available, and that you have to pick up the furniture locally in NYC, is practically meaningless. You have people for that sort of thing, don't you? No? Dammit, man, just use some of the $2,923 you save to rent some on Craigslist! Hop to, the auction ends Sunday morning at 06:24:32 PDT, leaving you plenty of time to get to the Golden Pear for breakfast.
David Netto Loft Collection Crib and Changing table, currently $76, auction ends July 1 [ebay via dt reader naomi, who's really regretting the Kansas thing right about now]
[update: The set went for $1750, a great price, I'd say. If you're one of the ten bidders who took a shot at the Netto, give us the post-game, whether it's the thrill of victory or the agony of defeat.]
posted June 29, 2007 6:03 PM | add to del.icio.us | digg this
<!something is wrong with my adserver, so until I fix it, no ads>