<!form method="get" action="http://dt-go.com/cgi-bin/mt/mt-search.cgi"> <!input type="hidden" name="IncludeBlogs" value="3" /> <!input type="hidden" name="Template" value="daddy" /> <!input id="search" name="search" style="width: 270px; height: 15px;" /> <!input type="image" src="http://daddytypes.com/search.gif" height="18" width="159" border="0"> <!/form><!br />
Boy, Does The Kid Love Her Magna-Tiles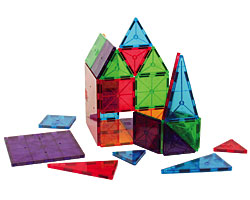 I've been meaning to write about Magna-Tiles sooner, but frankly, we've been too busy playing with Magna-Tiles. She's playing with them right now.
The kid had a playdate a few weeks back, and the other kid had a 32-piece set of these awesome, clear plastic tiles with little magnets all around the perimeter. They spent almost the whole time building their little city with them.
So when my dad asked about birthday present suggestions, we passed the idea along, and in typical grandparent style, the Deluxe 100-piece set showed up in a couple of days. It really is a lot, and the kid could do just fine with the smaller set. But then she'd have to take down one of the Empire State Buildings to add another church spire to the cityscape. Or her animals would have to get by with one-story pyramid houses in which to have their tea parties. And you might only be able to build one hexagon at a time [the kid has three in three alternating color schemes scattered around the tables like coasters at the moment.
They also come in opaque versions, too, but the clear ones look so nice in the sunlight. Good stuff.
A 32-piece set of Magna-Tiles Clear Colors goes for $54.95, while the 100-piece set is $119.95. [amazon]
posted March 20, 2007 10:16 AM | add to del.icio.us | digg this
<!something is wrong with my adserver, so until I fix it, no ads>