<!form method="get" action="http://dt-go.com/cgi-bin/mt/mt-search.cgi"> <!input type="hidden" name="IncludeBlogs" value="3" /> <!input type="hidden" name="Template" value="daddy" /> <!input id="search" name="search" style="width: 270px; height: 15px;" /> <!input type="image" src="http://daddytypes.com/search.gif" height="18" width="159" border="0"> <!/form><!br />
March 2, 2007
Skywalkers Art Blimp Parade Phollow-up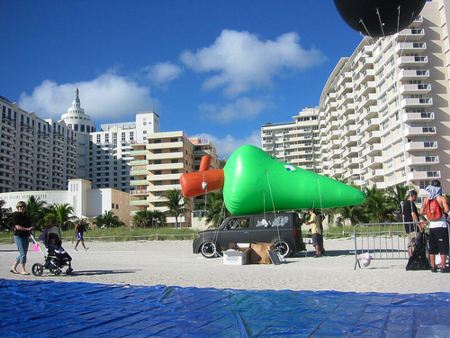 I don't need anything!
All I need is this modded Scion.
And this art blimp parade.
This Scion, and this art blimip parade.
And this Bugaboo.
This Scion, this art blimp parade, this Bugaboo,
And a week at the Shore Club. That's all I need.
Skywalkers Art Blimp Parade took place Dec. 7 during the ArtBasel Miami Beach fair. It was organized by Friends With You and sponsored by Scion, which explains the tricked out rides. Including the Scion xB converted into a monster truck. Vinyl Pulse has a good photo set, including some shots of the cars. This one is from Mumblion's Sky Walker set on flickr.
posted March 2, 2007 8:27 AM | add to del.icio.us | digg this
<!something is wrong with my adserver, so until I fix it, no ads>