<!form method="get" action="http://dt-go.com/cgi-bin/mt/mt-search.cgi"> <!input type="hidden" name="IncludeBlogs" value="3" /> <!input type="hidden" name="Template" value="daddy" /> <!input id="search" name="search" style="width: 270px; height: 15px;" /> <!input type="image" src="http://daddytypes.com/search.gif" height="18" width="159" border="0"> <!/form><!br />
Insane Clown Posse Rides The Fisher-Price Smart Cycle
There used to be a macrobiotic clown who'd panhandle on the 1/9 train. He was tall, with a cursory bit of make-up and a weathered clown suit on; normal shoes, though. And he had a weird, kind of weary, high-pitched, sing-songy voice that showed the toll of being so actively rejected by so many people for so long.
He was raising money for some kind of homeless shelter, but he'd always throw in some cryptic allusion to the shelter client's healthy macro-vegan diet or something. It was the kind of detail that was just out-of-place enough to make you suspicious that, if the center actually exists, it's run by some sort of throwback 60's cult who, by rights, should've been so out of fashion and debunked by now, they wouldn't be capable of recruiting anyone who wasn't hooked as a hippie.
Thing was, as this beggar clown would weave through packed subway cars, rattling off his shpiel, he'd be swearing up a storm under his breath. What sounded like pauses from far away were actually bitter, scary rants up close. His deadened eyes squinting in forced levity scared me, and I was always waiting for the headline about murderous rush hour mayhem caused by a berserk, shank-wielding clown.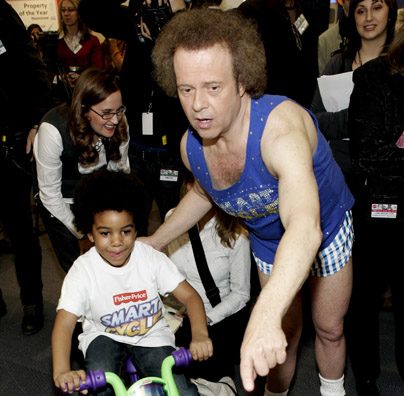 Which reminds me, Mattel hired Richard Simmons and his plugs to plug their new Fisher-Price Smart Cycle at the Toy Fair this week. The Smart Cycle is a stationary bike for pre-schoolers that hooks up to your TV. It comes with generic games, but the real learning, obviously, happens when you buy either Dora's Friendship Adventure™, Sponge Bob's Ocean Adventure, Hot Wheels®, Barbie Fairytopia™, or Diego's Animal Rescue™, which teach about brands and intellectual property licensing. $100, due out in July.
Mattel Toys introduces Fisher-Price's new smart cycle at toy fair [prdomain.com, more images at wireimage]
posted February 10, 2007 11:23 PM | add to del.icio.us | digg this
<!something is wrong with my adserver, so until I fix it, no ads>