<!form method="get" action="http://dt-go.com/cgi-bin/mt/mt-search.cgi"> <!input type="hidden" name="IncludeBlogs" value="3" /> <!input type="hidden" name="Template" value="daddy" /> <!input id="search" name="search" style="width: 270px; height: 15px;" /> <!input type="image" src="http://daddytypes.com/search.gif" height="18" width="159" border="0"> <!/form><!br />
Nume, Nume, Nume, Nume Fruit Salad-Colored Kid's Furniture
The Italian kids design house Nume says their projects "seek out pure forms, without added decorations. In their essential nature, such forms stimulate the imagination of children and develop their expressive freedom." [And in Italy, of course, a soccer ball qualifies as an essential form.]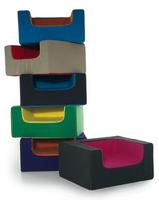 Nume makes some nice-looking, kid- and toddler-sized beds, and some good birch ply play furniture. [Though I'm not as stoked about the wicker bassinet, the stand is pretty cool.] But my favorite stuff is this blocky foam upholstered stuff which looks primed for kids to scramble around on all day.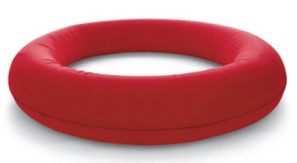 Plus, that big sumo ring offers the functionality of a playpen, without the "kid-in-a-box" connotations. It works until kid can crawl out, at which point, it becomes part of the playscape.
I love how a soccer ball is considered an essential form in Italy.
And just in case your kid has other ideas about added decorations, the wool, linen, or cotton upholstery on these polyurethane foam pieces is completely removable for cleaning.
Nume is available in Italy from Agape to Zabaglioni Roma, around Europe. It was part of DWR Jax's original product lineup, which means that what's left is now on fire sale. That chair is $168, down from $248, though it's only available in two color combos.
Nume Design for Children [nume-design.it, via jan at kidsrepublic]
posted November 2, 2006 12:47 PM | add to del.icio.us | digg this
<!something is wrong with my adserver, so until I fix it, no ads>