<!form method="get" action="http://dt-go.com/cgi-bin/mt/mt-search.cgi"> <!input type="hidden" name="IncludeBlogs" value="3" /> <!input type="hidden" name="Template" value="daddy" /> <!input id="search" name="search" style="width: 270px; height: 15px;" /> <!input type="image" src="http://daddytypes.com/search.gif" height="18" width="159" border="0"> <!/form><!br />
BabyFirstTV: Uh-Oh, I'm Being Swayed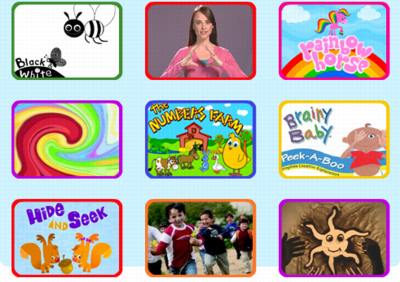 Look, I can't pretend I'm automatically and irrevocably opposed to babies watching television. I mean, the kid watched her first movie from my lap when she was not even 4 weeks old. [Granted, it was John Cassavetes' Shadows, and she only saw blurry, intermittent interludes of black & white motion, but still, I felt it was appropriate (enough) at the time.]
And so while I sounded all sarcastic and sanctimonious about Baby First TV's new subscription channel for infants last week, after reading David Itzkoff's remarkably perceptive review of the channel's actual programming, I have to say, I'm ready to not hate it.
There are unscripted scenes of animals walking around. Gently shifting rainbow color fields and extremely slowly drawn sand pictures. Basic shape, color, and matching activities. And short, simple stories about unlicensed [so far], seemingly agenda-free characters. Just about the only actual complaint he makes about BFTV is their lack of narrative organization:
Where BabyFirstTV will likely suffer most is in the minds of older viewers who cannot help but compare it to their own halcyon memories of "Sesame Street." BabyFirstTV may not yet have its own set of recognizable icons for children to latch on to, but the more obvious deficiency is its lack of pacing: there are no apparent thematic threads that tie its segments together 'Äî no obvious reasons why a video short about fingers and thumbs should be followed by a cartoon about what sound a duck makes, followed by another cartoon about what scientists do. Without a clearly defined beginning, middle and end to its programming blocks, there is no compelling need to turn on BabyFirstTV at any particular time of day, but more tellingly, there is no obvious indication 'Äî other than the alarm bells on an adult's internal clock 'Äî that it is time to turn it off.
Last things first: the apparent potential for parents to park their kid and forget about it is there, and it's a real concern. Fine. But BFTV's weakness--the lack of a "compelling need to turn on BabyFirstTV at any particular time of the day"--may actually be the channel's biggest selling point. And the "Sesame Street" reference is very revealing on that score.
Think about it: with all it's morning ritual, its opening credits and songs, its "brought to you by the letter 'N'" faux sponsorships, and its episodic narrative, "Sesame Street" is a television show. It's a show that's good for you, but it's still a show. And as a result, the great, overarching lesson The Street taught us was how to watch a television show. BabyFirstTV's programming, on the other hand, is scheduled around a baby's day--and to suit a decisionmaker/parent's need at any given stage of that day. It's active and engaging in the daytime, and soothing and hypnotic at night. And that's about it. Because really, what more storyline does a baby's life have at nine months anyway, right?
To be honest about it, the kid's always had an on-demand TV channel, the only difference is I've been programming it myself online: Nat Geo's watering hole cam, videos of cows from some organic dairy, flickr slideshows, flickr-based music videos and bouncy ball commercials, and now bitesize Sesame Street and Wiggles clips right when we need them. BabyFirstTV's biggest competition may not be "Sesame Beginnings," but YouTube.
BabyFirst: Television Steps Perilously Close to the Womb [nyt]
Previously: From The Makers of Free Willy: Pay-TV For Babies
posted May 22, 2006 10:57 PM | add to del.icio.us | digg this
<!something is wrong with my adserver, so until I fix it, no ads>