<!form method="get" action="http://dt-go.com/cgi-bin/mt/mt-search.cgi"> <!input type="hidden" name="IncludeBlogs" value="3" /> <!input type="hidden" name="Template" value="daddy" /> <!input id="search" name="search" style="width: 270px; height: 15px;" /> <!input type="image" src="http://daddytypes.com/search.gif" height="18" width="159" border="0"> <!/form><!br />
Netto Cub-Scouting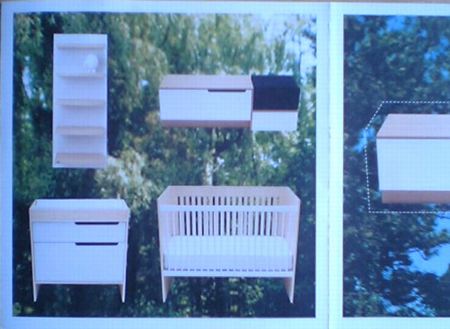 I can still remember the sticker shock I got when I saw my first Netto Collection crib. You have to appreciate a bit that at the time we started crib shopping--late 2003, whoa, they grow up so fast-- there was approximately NO contemporary baby furniture out there. [I've since learned there was, in fact some, like Hiccup's Tall Grass crib, but still.]
While prices in the "quality" crib ranged around $700-900, NettoCollection was priced at $1300, almost a full Bugaboo Unit above the rest. The only other modern option, meanwhile, was Ikea, which was priced so low--like $85 or something--it seemed almost dubious, suspicious, even, and a little rickety.
Well, come this fall, Netto will introduce Cub, a collection of pine nursery furniture that's "based on the minimalist furniture of artist Donald Judd." As a big Judd fan myself--with his kid's very Judd-y toddler bed waiting to be picked up from the shop--I can totally appreciate that.
But with only the teaser brochure to go by, it's interesting, because with its super-spare lines, the plain or painted pine, the simple cutout handles, the Cub furniture looks less like classic Judd and more like classic Ikea.
So it's not Netto for people who don't want to pay Netto prices, it's Ikea for people who don't want to pay Ikea prices? That is freakin' brilliant.

Cub by NettoCollection is only in brochures at the moment, which say the crib'll run $499, the dresser/changing table is $550, the toy box is $375, and the shelf is $299. For all-white. Add about $25 each for white/pine mixed. [nettocollection.com]
update: sheesh, the last two pictures on this site are horrible. My kingdom for a good flatbed scanner/laser printer (color or b/w) recommendation. Or at least a DT t-shirt.]
posted May 16, 2006 8:11 AM | add to del.icio.us | digg this
<!something is wrong with my adserver, so until I fix it, no ads>