<!form method="get" action="http://dt-go.com/cgi-bin/mt/mt-search.cgi"> <!input type="hidden" name="IncludeBlogs" value="3" /> <!input type="hidden" name="Template" value="daddy" /> <!input id="search" name="search" style="width: 270px; height: 15px;" /> <!input type="image" src="http://daddytypes.com/search.gif" height="18" width="159" border="0"> <!/form><!br />
Kid-size Ikea Table, Lack, Is Sweet, Freaky-Cheap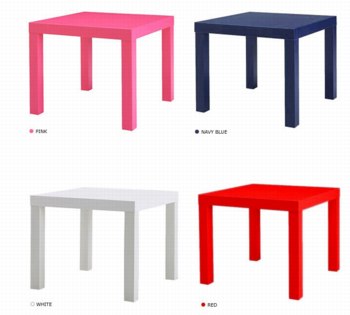 It's days like this I'm really glad I don't have to compete with Ikea for anything.
We were commuting, and timed our trip to DC so that we hit the NJ Ikea for lunch--the kid barely eats meat, but hoovers meatballs. go figure. On the way out--and isn't this how it always is with Ikea?--I spotted something out of the corner of my eye and said, "Wow, gotta have it."
"It" is the "side table Lack," and it seems perfect for the kid. It's bright red. It's 55cm square and 45 cm [17.75"} high, and the square legs screw in flush with the corners. It's totally plain and simple, and it looks pretty sweet. [It also bears an uncanny ressemblance to part of a sculpture we have by a friend Wade Guyton, who's in the Whitney Biennial at the moment. Go, Wade!]
Of course, the legs are painted and the top is ABS plastic--there are wood veneer models as well--and the whole thing is actually particleboard, and from the inside edges, it looks like it was made from the sweepings of the Ikea factory floor. Still, for a kid's room, it seems spot on. And seriously? It was only $12.99. Less than our lunch.
No sooner did I set it up, than the kid pulled up her over-the-top, handmade, purple chair, and said, "now get some work done." Wonder where she's heard that before.
The side table Lack is supposed to be available in all sorts of colors and veneers, from $12.99-$16.99. Only birch veneer is available online, though, and that seems to miss the point. [ikea.com, image: some random korean furniture magazine]
posted March 20, 2006 10:36 PM | add to del.icio.us | digg this
<!something is wrong with my adserver, so until I fix it, no ads>