<!form method="get" action="http://dt-go.com/cgi-bin/mt/mt-search.cgi"> <!input type="hidden" name="IncludeBlogs" value="3" /> <!input type="hidden" name="Template" value="daddy" /> <!input id="search" name="search" style="width: 270px; height: 15px;" /> <!input type="image" src="http://daddytypes.com/search.gif" height="18" width="159" border="0"> <!/form><!br />
Bugaboo-hacking: The $99 Cameleon?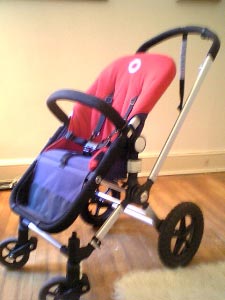 If you could make a Frog look convincingly like a Cameleon by dressing it up in a $99 fleece of your choosing, you could save $779. How's it look? Because it was so overcast today, my cameraphone pics didn't turn out that great, but the answer is, eh, so-so.
The fleece sets have three pieces: a seat cover, a canopy, and a zip-on bassinet top.
Because it's contoured and zips into place, the fleece bassinet top is useless on a Frog. You just stuck $33 of your $99 in the dispos-all.
The canopy goes on, and the outer edge fits extremely well; it's tight and smooth. If all you're ever gonna do is put the canopy at half mast, it's perfect. The back half, though, is baggy, no two ways about it. Not a dealbreaker, I guess, but definitely suboptimal.
The seat cover's the best fit. The grippy nylon of the Frog seat holds it in place, which is good, because the cover's Velcro strips have nothing to attach to. Also, the Frog buckles come in from the side, while the Cameleon's now come from the back. With a kid in there, you'll always be tugging a bit, gapping the fleece away from the seat. But otherwise, it looks a lot like a Cameleon, at least to the untrained eye. The trained eye, on the other hand, might look at the straps, the fixed-height handle bar and the side-mounted brake handle and wonder who you think you're foolin'.
Which gets right to the heart of the matter: if you want a fleece because it's comfy for the kid, fine. But if you for some reason want to try and make random people think you have the Cameleon, not "just the Frog," you're adrift in a world of chumpness, my friend, and you need some help.
posted October 7, 2005 6:40 PM | add to del.icio.us | digg this
<!something is wrong with my adserver, so until I fix it, no ads>