<!form method="get" action="http://dt-go.com/cgi-bin/mt/mt-search.cgi"> <!input type="hidden" name="IncludeBlogs" value="3" /> <!input type="hidden" name="Template" value="daddy" /> <!input id="search" name="search" style="width: 270px; height: 15px;" /> <!input type="image" src="http://daddytypes.com/search.gif" height="18" width="159" border="0"> <!/form><!br />
Mmm, Maxi-Cosi... Get. Into. My. Volvo.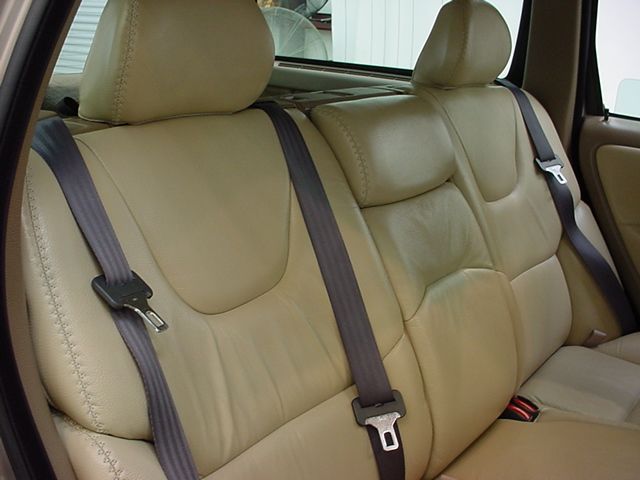 In my sister-in-law's Ford Escort, the rear shoulder belt was just barely long enough to wrap around our Maxi-Cosi Cabrio car seat. Every once in a while, I'd have to lean on the Cabrio, pressing it into the cushion to get the buckle in.
In a few other cars, meanwhile, like DT reader David's Volvo v70XC ["Sorry, no E55 Seal Super Wagon."], the seat belt can be too short by an inch or more, and the Cabrio won't go in at all. [See above. Note: not David's actual car.]
David found a solution, although it's one that might require you to leave your affable chattiness behind when you call the Parts Department:
Thanks to the American with Disability Act, most car manufacturers offer seat belt extenders (at no cost). Volvo part #6812818 clips into the existing buckle, and rises up about five inches. With a Munchkins seat pad, the set up works great in the middle, rear seat of our v70XC.

Also, I made the mistake of telling the parts manager at our local dealership about the problem (euro car seat that does not fit euro car?!#%$#). Silly me. He would not order the part for me because they are only to be used for the front driver/passenger seats. No rear seat applications, and no car seats. Whatever, I just called another dealer, kept my mouth shut, and had the part in three days, no questions asked.
Coming next week: Using a car seat to score sweet parking spots right near the front of wherever you go.
Previous posts about the Maxi-Cosi Cabrio
Need a Maxi-Cosi? Try Babycare.nl
Need a Volvo V70 XC? Try ebaymotors. With the new models, you can have V70 OR XC, but not both.
posted September 30, 2005 3:26 PM | add to del.icio.us | digg this
<!something is wrong with my adserver, so until I fix it, no ads>