<!form method="get" action="http://dt-go.com/cgi-bin/mt/mt-search.cgi"> <!input type="hidden" name="IncludeBlogs" value="3" /> <!input type="hidden" name="Template" value="daddy" /> <!input id="search" name="search" style="width: 270px; height: 15px;" /> <!input type="image" src="http://daddytypes.com/search.gif" height="18" width="159" border="0"> <!/form><!br />
Daddy Type T-shirts v2.0 Are Here, Rock
[6/20 UPDATE: Buy as many as you want; daddy type t-shirts are in stock in sizes L, XL, and XXL ONLY. And remember, the run small.] Sorry, the rest are sold out and ain't comin' back.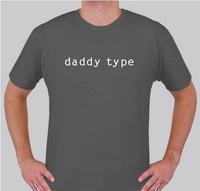 OK, the new daddy type t-shirts are in, and they look awesome. A daddy type t-shirt makes a sweet edition to any collection, and it's a perfect gift for the new daddy or daddy-to-be in your life.
The shirts come in three sizes, and they run kind of small: L (40), XL (42-44), and XXL (44-46). They're the same high-quality, American Apparel fine, 100% cotton jersey shirts as before, only this time in asphalt [See detailed specs and color here.], with the text double-screened in white.
The new shirt colors were selected in response to reader feedback and come with some tradeoffs. The darker asphalt helps downplay any barely-seen-a-gym-since-the-kid-was-born gut, but it lacks the automatic chest hair revealing functionality of the slightly translucent, white originals; if you want to show off your pelt, you'll have to lift your shirt up like everybody else.
So why not get a daddy type t-shirt for yourself, or for the daddy in your life?
posted April 22, 2005 2:46 PM | add to del.icio.us | digg this
<!something is wrong with my adserver, so until I fix it, no ads>