<!form method="get" action="http://dt-go.com/cgi-bin/mt/mt-search.cgi"> <!input type="hidden" name="IncludeBlogs" value="3" /> <!input type="hidden" name="Template" value="daddy" /> <!input id="search" name="search" style="width: 270px; height: 15px;" /> <!input type="image" src="http://daddytypes.com/search.gif" height="18" width="159" border="0"> <!/form><!br />
Micralite: Stroller-gami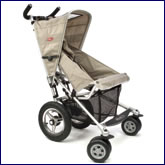 My personal jury's been out on the Micralite folding stroller for a while, but several people have emailed me about it [including DT readers Stelly and Emily], so up it goes. The Micralite's made by Kolcraft for the UK market. For a while last year, they toyed with bringing it to the US as the Jeep Rubicon, but that didn't happen.
The Fastfold is a light travel stroller, weighing in at under 7kg (15 lbs), which puts it in Maclaren Triumph territory. Its main feature, though, is its origami-looking double wedge shape. I guess stroller designers stay up nights trying to tweak the standard right-angled folding stroller skeleton.
Like you'd want, the Micralite reclines a bit, and it folds up very nicely--as long as the giant underseat basket isn't full of extraneous junk, which it will be, I'm sure. The inflatable rear tires give it a smooth ride, even outside of the mall, and the pivoting front wheels give it a tight turning/maneuvering radius.
It's recommended for kids 6 months and up; any younger and you should check out the car-seat/travel system or the Micralite Fastfold Newborn, which includes a bassinet adaptor. Prices range from £169.00 to £240.00, plus s&h, minus VAT
Buy the Micralite Fastfold at GLTC, Ltd for £169.00
Buy the Micralite Fastfold Newborn for £240.00 at Groovystyle. Umm, yeah, baby?
Meanwhile, the Jeep Rubicon isn't available for $279.38 at babybeddingtown.com.
posted January 18, 2005 8:47 AM | add to del.icio.us | digg this
<!something is wrong with my adserver, so until I fix it, no ads>