<!form method="get" action="http://dt-go.com/cgi-bin/mt/mt-search.cgi"> <!input type="hidden" name="IncludeBlogs" value="3" /> <!input type="hidden" name="Template" value="daddy" /> <!input id="search" name="search" style="width: 270px; height: 15px;" /> <!input type="image" src="http://daddytypes.com/search.gif" height="18" width="159" border="0"> <!/form><!br />
July 4, 2004
Carrot-shaped Bottle Cleaner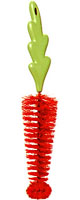 The Italian company Vice Versa Baby makes a bottle cleaner shaped like a carrot, and a bottle drying rack that looks like a little garden--complete with a little tulip. They also make a bottle with a cow's udder for the nipple.
This stuff is nice and harmless, but it's all too cute to buy for yourself. Let's get that straight right now. I mention it here for two reasons: 1) you can offer it up as an ultimately harmless design concession when you're negotiating against something you don't want, like wallpaper borders, for instance, and 2) they're a perfectly fine gift. So if you want one real bad, just point your friends to the site, where their gift-giving imaginations can be piqued.
It may be moot anyway, since I can only find them for sale in Australiaand Japan. In their pitch, Orange-Baby.com cuts to the chase: "Just imagine how cool your baby will become in the future."
posted July 4, 2004 2:36 PM | add to del.icio.us | digg this
<!something is wrong with my adserver, so until I fix it, no ads>