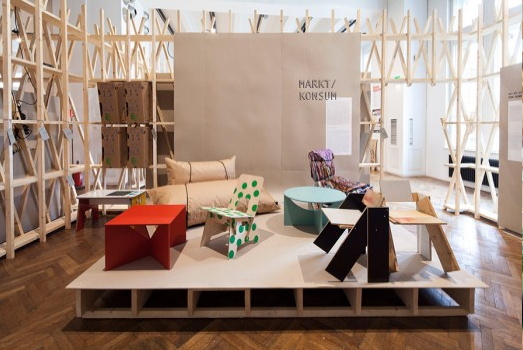 So I knew that MAK in Vienna was doing a DIY exhibition, the first ever, as far as I could tell, based on Victor Papanek & James Hennessey's groundbreaking DIY bibles, Nomadic Furniture, but I admit, I'd lost track of when it was happening.
AND IT IS HAPPENING NOW. IT IS CALLED NOMADIC FURNITURE 3.0: New Liberated Living?
ALSO HOLY SMOKES DADDY TYPES IS IN THE SHOW.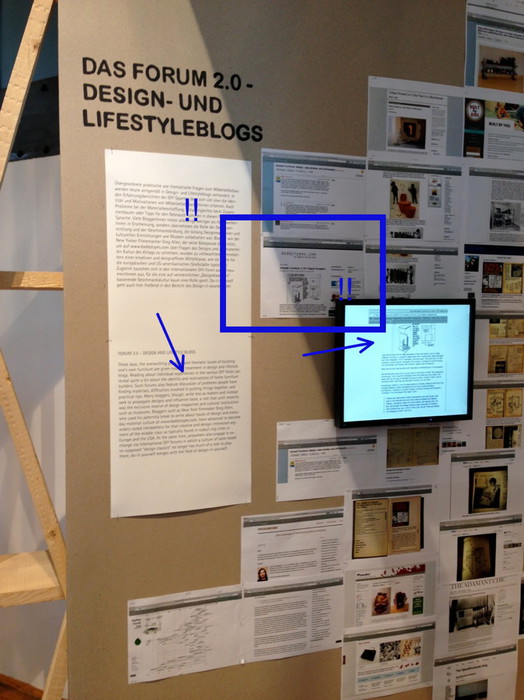 DT hero/design guru Patrick from Mondo Cane was in Vienna, where he snapped the above photo, of screenshots and walltext from DT's early, kid-related coverage of Nomadic Furniture. [Here's the post showing plans for a slot-together kids' stool and a reversible crib/toddler bed.]
Sure, sure, but what does it say about me?:
Many bloggers, though, write less as makers and instead seek to propagate designs and influence taste, a role that until recently was the exclusive reserve of design magazines and cultural institutions such as museums. Bloggers such as New York filmmaker Greg Allen, who used his paternity break to write about issues of design and everyday material culture at www.daddytypes.com, have advanced to become widely noted trendsetters for that creative and design-interested segment of the middle class so typically found in today's big cities in Europe and the USA.
Which, except for the persistent lack of a paternity break for me and my country, SURE!
Anyway, we shall be taking a closer look at this exhibition directly. Stay tuned.
UPDATE: OK, for starters, MAK designers in residence chmara.rosinke enlisted 15 friends to build 17 different DIY designs from the show, ranging from the 19th to the 21st centuries. Their studio site has photos and plans for all of them.

Nomadic Furniture 3.0, curated by Martina Fineder, Sebastian Hackenschmidt and Thomas Geisler, runs through Oct. 6, 2013 [mak.at
Buy vintage copies of Papanek & Hennessey's Nomadic Furniture for yourself. They're both gold, but vol. 2 has more kidstuff than 1. [amazon]
Previously, related: Foldschool: DIY Kids Cardboard Furniture by Nicola Stäubli