The other night I was watching Merchant Ivory's A Room With A View for the first time in like 15 years. And Judi Dench and Maggie Smith are these two buttoned up Edwardian ladies, and there's a scene where they're just about to sit down on the grass in some Tuscan field, when Dench whips out a couple of pieces of cloth, and says,
Observe my foresight.

I never venture forth without my mackintosh squares.

At any time, one may have to sit on damp ground or cold marble.
And I guess it was the combination of over-prepared British people and indispensible, multipurpose fabric squares that suddenly made me wonder: what is the deal with muslin baby blankets?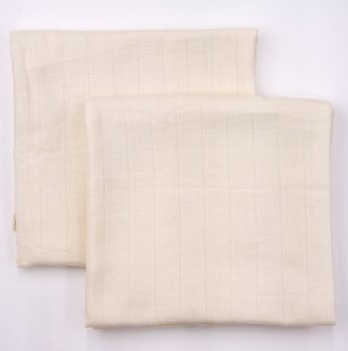 Because some people who use them swear by them, and others, like us, never had one, never heard of them, and didn't miss them for a second.
But they're light, and fold up small, and are pretty basic, so sure, I guess they can be a swaddling blanket or a sun shade, or a burp cloth, or a sheet. But all these things also exist.
And they seem kind of pricey for one square meter of see-through cloth. And most of the muslin squares I see have little animals all over them. Not that I'm suggesting you make your own or anything, though one obviously could.
44 inches seems to be a standard size, but here's a bundle of ten 80x80 cm muslin squares for around the same price. Are those too small to be anything but artisanal cloth diapers?
( guess I wonder if they're really all that great? Is their greatness obvious? Can you pinpoint it? Is there some killer muslin app? Or is it just basic functionality and adaptability?
Buy a pair of plain, organic cotton muslin square baby blankets for around $39 [amazon]