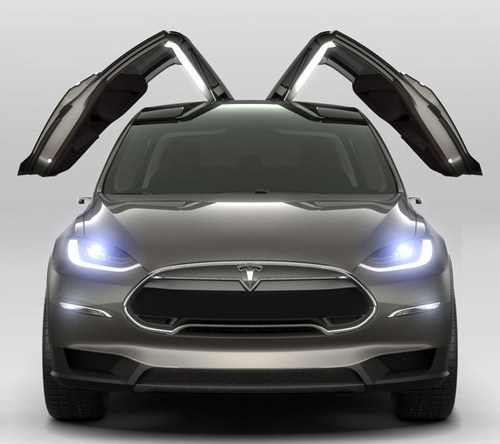 If I weren't already an entire Tesla model behind, I'd worry about being a week late with a post about the awesomeness of the new, 7-passenger, Tesla Model X unveiled at the Detroit Auto Show.
But as it stands, DT still needs a fanboi post on the Tesla Model S, which just turned up behind us in the preschool dropoff lane yesterday, and which is already being called the "Menlo Park Camry"? Is this true? Did I hear this right? We'll look into it.
Meanwhile, the Model X: an SUV/minivan/MPV where the middle row of seats apparently folds down into a surprisingly useful-looking ottoman of some kind? And where the "falcon-wing doors" allow full standing-height access to car seats and such?
And it's supposed to deliver in 2014? At some point, maybe by the time they actually produce and deliver their third awesome electric vehicle, we might just have to start believing Tesla exists. We must also resist calling their front luggage compartment a frunk.
Tesla Motors | Model X [teslamotors]
The Tesla Model X Is The Only Car In Detroit That Really Feels Like It's From The Future [jalopnik]
Tesla Model X | Hands-On, and images of the interior [engadget]