We have in our midst several Daddy Types readers who are also automotive journalists of the most discerning kind, folks whose job it is to test cars and car gear on a regular, even long-term basis, and to form highly evolved opinions of such gear based on careful observation and experience.
And so without further delay, here is DT regular and leather car seat connoisseur David Traver Adolphus' firsthand report of his family's extended test drive of the Clek Olli booster seat, finished in black Cooper leather: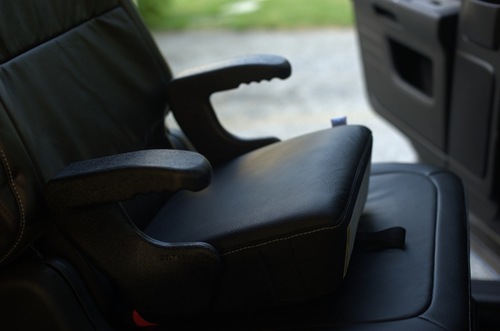 We in our rural, small town lives don't expend huge energy on appearance; and our parenting situation is unusually challenging, too. Who are we going to look good for? Our selves? Ha. When I bought a Clek seat a couple of years ago it was strictly for the articles. I have no excuse, then, for the leatherclad Cooper edition Olli booster seat we've been trying, except that the Clekmakers offered it to me.
I was highly skeptical. The Oobr is hewn from the earth's living rock; the Cooper is light to the point of seeming flimsy. Much to the Clek PR person's dismay, I was unwilling to write it up without first subjecting it to an emotionally fraught six-year-old for a few months.
Despite their ties with automobile seat maker Magna, I didn't feel the leather was upholstery-quality. Supple, but not very thick. The armrests were also far less substantial than the Oobr's, and in contrast with that seat's rubberized surface, they have economy-car pebble-grained plastic. I was concerned those would chafe young skin, especially if heated up and sweaty in the summer.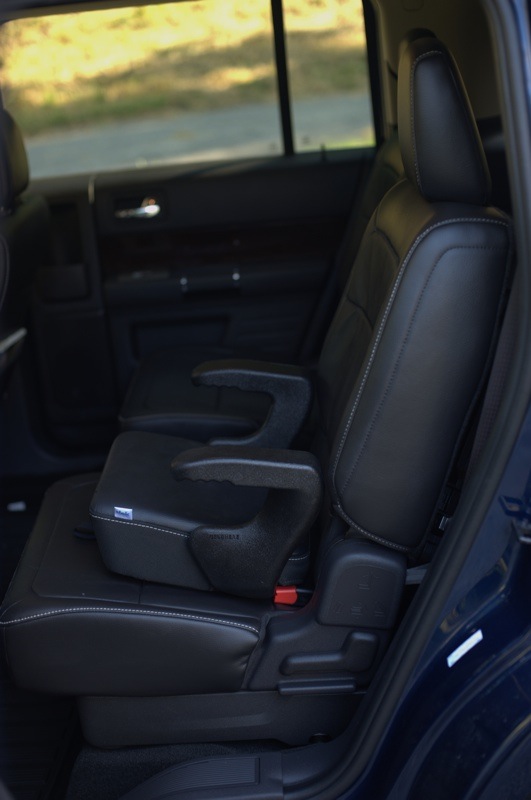 There was substantial resistance from a child who said "I don't want to sit on leather," perhaps because he really did adore his Oobr. It was the increased legroom without that seat's protective back shell that ultimately sold him on the idea. One thing I did not consider at all was that with the Oobr's side bolstering going away, he couldn't lean against it to sleep, and the Oobr reclines, as well. We seldom take extended trips, but we haven't figured that out. When I was a kid I just lay down on the back seat, so I'd be curious to know what other people do. Car full of pillows?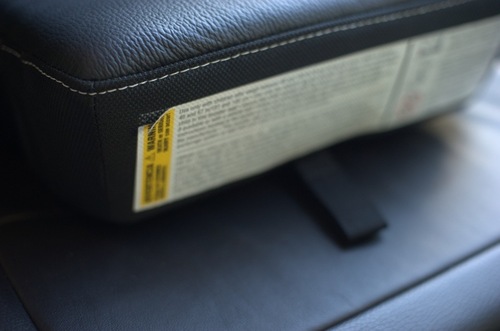 [I assume this photo was an unspoken prompt for the possibility of removing the gigantic warning label. DT cannot condone or recommend such practices that might favor aesthetics over safety, especially when spending $150 on a premium piece of safety equipment. Which you're surely not buying just for the leather. -ed.]
I was pleasantly surprised when the armrests were a non-issue, but I'd still like to see them leather-wrapped. More so than the seat bottom, they'd patina very nicely. I think it should also come in a saddle brown--there was briefly an Oobr in saddle leather. The seat has stretched slightly, but no more so than leather automotive upholstery would have. Despite occasional tantrums, there is no visible damage and the leather does not show stains. It is remarkably durable for its weight. Our car seems to have soft rear seat padding and car seats sink in very deeply, so I suspect I have a more acute angle than some other applications, where it would be closer to level.
It's incredibly light and comes with a carrying strap that clicks into the LATCH anchors. If it wasn't for the legroom issue I think sticking with the Oobr as long as possible would make sense. People who often switch cars or fly, not an issue in our one-car family, would rapidly tire of moving the bricklike Oobr (as I recall, it's 23 pounds). A very subtle, five-pound Cooper would then be greatly appreciated and I think would do quite well.
Buy a Clek Olli booster seat in Leather Cooper for $149 or so [amazon]
Previously: My Name Is Clek Oobr, and I. Am. An Awesome Canadian Booster Seat.