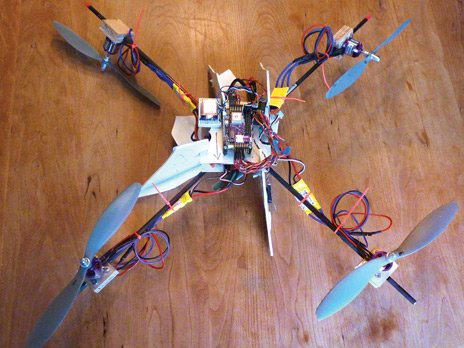 Oh, the sweet drone permasurveillance future cannot come soon enough.
At least for Paul Wallich, who wrote in IEEE Spectrum about his first [!] attempt to build an Arduino-powered, video-chatcam and GPS-equipped, quadcopter drone to follow his son down the hill to the bus stop each [cold, wintry] morning:
The copter is skittish when it's windy, and GPS guidance is good to 10 meters at best. Because my particular front yard is only about 15 meters across, with a long, tree-edged driveway leading to the street, I either have to follow automatically above the treetops--where I can't really see what's going on--or else supplement the autopilot with old-fashioned line-of-sight remote control. Which somewhat defeats the original plan of staying warm and dry while a drone does my parenting. 

The hilariscariest part is, it seems like we're only an order of magnitude improvement in battery life and drone development before drone-based helicopter parenting becomes feasible, which means only a couple more iterations before it becomes practical, and then BAM, it's trivial, and Apple/Google will bake it right in.
Arducopter Parenting | The DIY Kid-Tracking Drone [ieee.org via dt reader nathan]