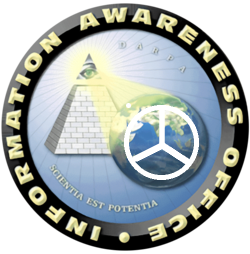 Our entire culture is at risk of disappearing from our grasp, and we don't even know it. Crevasses open up and swallow the hapless as as they trek from the analog darkness toward the glow of the digital networked utopia over the horizon. History that's made and told by the publicity mercenaries of the corporate media industrial complex to further their own immediate objectives, and then dumped, destroyed, or locked away, forgotten. Maybe nothing left but a batch of PowerPoint slides on an unlabeled Zip disc in a marketing exec's ex-wife's garage. Or a database of ten-year-old, low-res, spottily captioned party pics of the herd of demi-celebs and plus-ones who answered a corporate sponsor's red carpet ribboncutting cattle call worth less than the bandwidth it takes to reload my browser window unless--God forbid--Jason Sehorn were to someday OJ Angie Harmon. I mean, seriously, eBay, why don't you have an archive?
On February 8, 2002, Mercedes Benz USA hosted a charity fundraiser tied to the beginning of Fashion Week. Just a year earlier 7th on Sixth had announced a multi-year name sponsorship deal with MBUSA. Unfortunately, New York City was attacked by terrorists during the September 2001 edition of Mercedes Benz Fashion Week. And despite everyone's attempts to shop their way back to normal, come February--an unfashionable month under the best of circumstances--the city was still a pretty weird, unsettled place.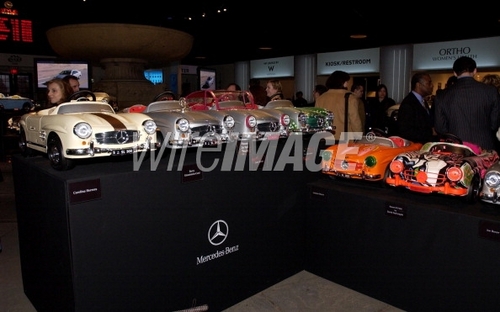 As documented on PRNewswire, Mercedes launched its 2003 SL convertible at Fashion Week by rounding up "more than 55 designers and celebrities" to customize 300SL Roadster pedal cars. Which were auctioned off on eBay from Feb. 8-15. Proceeds were flagged for the Elizabeth Glaser Pediatric AIDS Foundation (EGPAF). And that's, embarrassingly, maddeningly, almost all that we know.
For three months, the world's largest, most complete compendium of celebrity-decorated Mercedes pedal car-related information has resided in about two dozen open browser tabs on my computer. This is obviously an unsustainable situation. And frankly, it's outrageous. There are at least half a dozen organizations who are better equipped--and morally, ethically, historically, on the hook--to assemble, manage and publish this stuff. And they're not. So here it is.
Daddy Types' goal is to assemble a comprehensive list of designer and celebrity customizers of the Mercedes Benz Fashion Week pedal cars, along with images and descriptions of their creations. Then we can start working on tracking these things down in the wild. Because they are loose.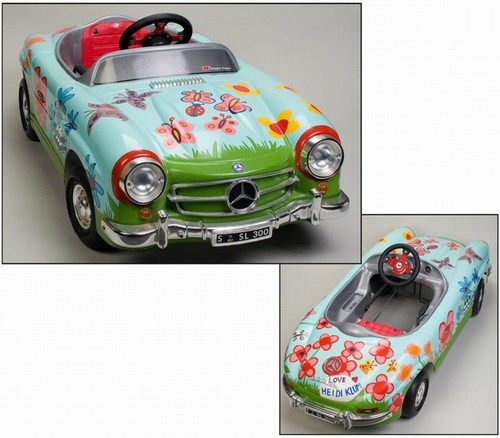 Heidi Klum's pedal car, covered with her hand-painted flowers and butterflies, and accompanied by a certificate of authenticity signed and dated by the artist [4/16/2002] sold for $389 at an American Memorabilia auction in 2008. There was one bid.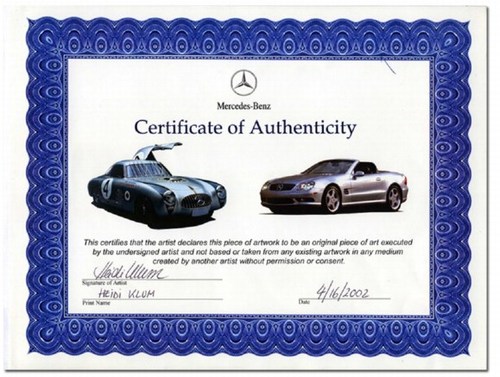 Let's start with the press release which only named seven of the 55+ designers and celebrities: 1-5, in obviously non-alphabetical order, were Oscar de la Renta, Tommy Hilfiger, Donna Karan, Britney Spears and Rosie O'Donnell.
Oscar, we got nothing. Though he was stood behind Mayor Bloomberg for the official opening of MB Fashion Week, he apparently skipped the media scrum, where all the pedal cars were arranged in spotlit rows in the gloomy Bryant Park tent, and where some of the needier celebrities posed by their cars, like nerds at a science fair. Which, oh, here's Tommy Hilfiger and son, and their blatantly self-promotional pedal car: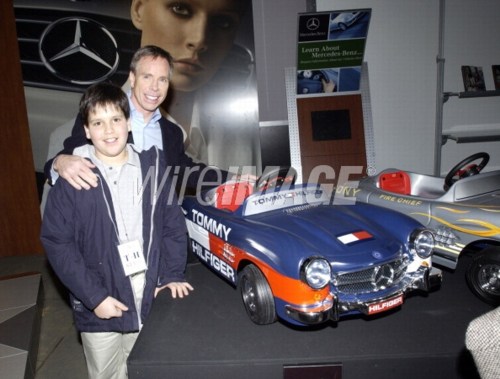 This and all photos with the giant WireImage watermark via wireimage.com, obviously
Donna Karan, we have a partial, thanks to flickr user Andrew Fort aka Chuck Biscuito, who hated on the designer's deployment of her signature mustard paint job when he saw the pedal car in the--guess where?--Mercedes Museum in 2006. How'd it get there?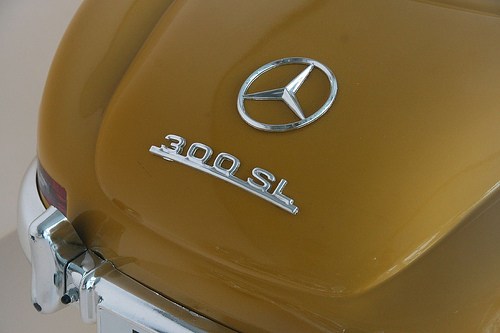 And as flickr user 7_70 shows, the DKNY-branded car has the company's longtime SoHo billboard plastered onto the windscreen.
Britney Spears' flowers make you wonder if she and Heidi Klum had a painting party. The naked fairy with the praying mantis hands on the hood just makes you wonder.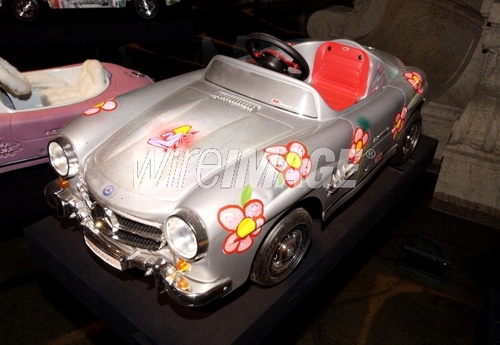 Rosie, no picture, but every time I think of her, I get that movie she did with Dan Akroyd, the one where they're undercover cops at an S&M resort, stuck in my head. Now you can, too. [Here we go: "a mustard-colored grille with pea-green headlights."]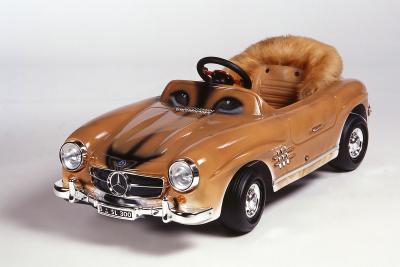 Press release #6: Luca Orlandi for Luca Luca, created "a look-alike toy lion with custom-dyed Italian shearling fur and suede seats." Amazingly, that's actually one of like four pedal cars MBUSA distributed press images for. And PR#7, Douglas Hannant [who?] designed a "'couture sports car,'" [which?] "which dons mink seats, iridescent caviar beads and a crocodile-skin covered steering wheel and gear lever," which frankly sounds tacky as hell. [Hannant may be this pop-up infested fansite says is actually titled, "Field of Daisies":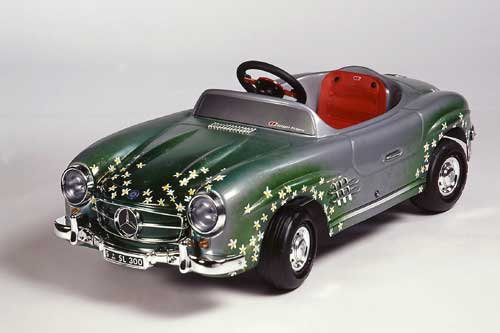 Hugo Boss: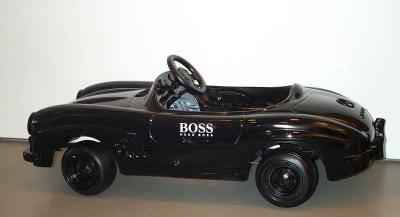 The newswires ran this MB-provided three-shot of Badgley Mischka [top], a flower-encrusted car by BCBG Max Azria [right] and the Klum car.
From AP press reports:
Zang Toi's tiny 300SL Gullwing [sic] is a tribute to New York, his adopted home. Fire-engine red, with red-and-white accents, it comes equipped with a Zang Toi cosmetic bag stuffed with Bobbi Brown Essentials makeup.
Always be selling.
Luella Bartley, who won Elle Magazine's Young Designer Award for 2000, created a black-studded, '50s-inspired car with pink pompons trailing from the rear bumper. Carmen Marc Valvo lined his steering wheel with faux white mink, and Betsey Johnson drew a picture of herself on the hood.
Actually, there's a picture of Johnson's: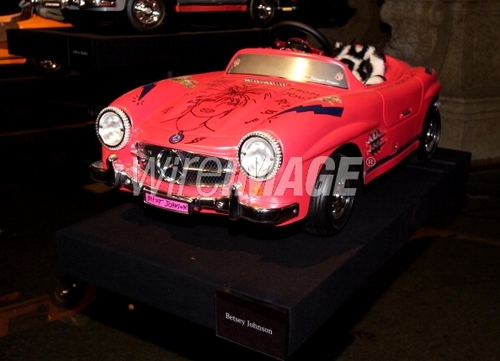 Points for not outsourcing the entire thing to an intern, Bets.
And so we really are forced at this point to rely on WireImage's archive of the photo op, let's see if we can re-create the experience of that cold, rainy morning, with cars arrayed around the hospitality-tented fountain: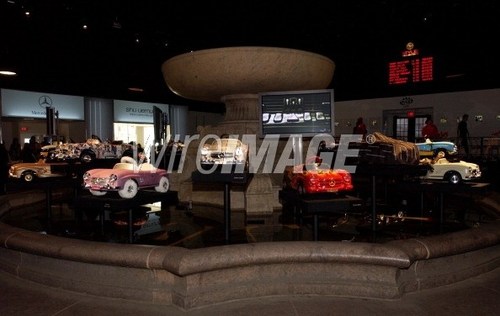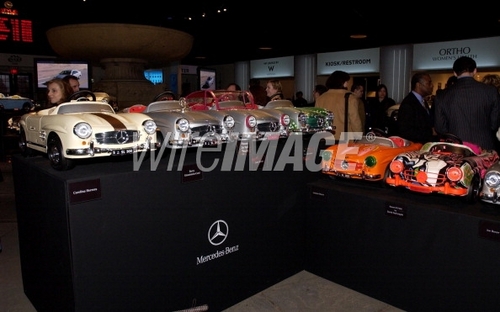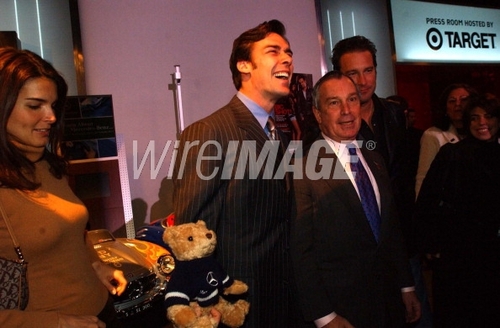 After proclaiming Mercedes Benz Fashion Week open, Mayor Bloomberg poses in front of the pedal cars for flash photos with, from left, um, Angie Harmon, a small Mercedes teddy bear, Jason Sehorn--and Sex And The City's John Corbett.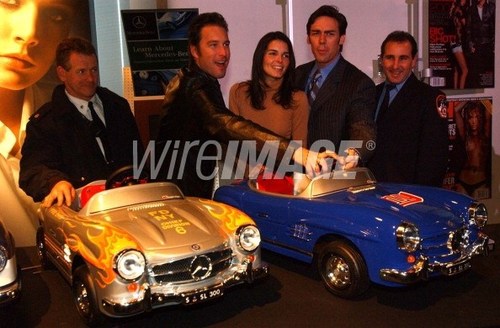 And then the Mayor left, and Harmon and Sehorn--and Corbett, again--pose with Sehorn's [totally phoned in] Giants logo pedal car. Flanking them are Actual 9/11 Heroes, Jim Hodgins and Paul Iannizzotto from FDNY, posing with the Chief's pedal car.
Let's move on. Here's Caroline Rhea, of the hit TV series whatever, her people called back, her car looks decent, and she showed up on time--with her dog Sweetie, and who wouldn't want a picture of that, amirite?
You know, her car actually looks pretty nice, well done, with a touch of Bhagwan Sree Rajneesh psychedelia, but not too much, and it really is for the dog, so--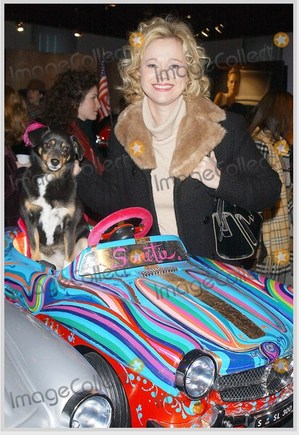 Uh-oh, Corbett's spotted the photoscrum. He's grabbed the Mercedes logo bear, and is headed this way. Does he even have a pedal car in this race?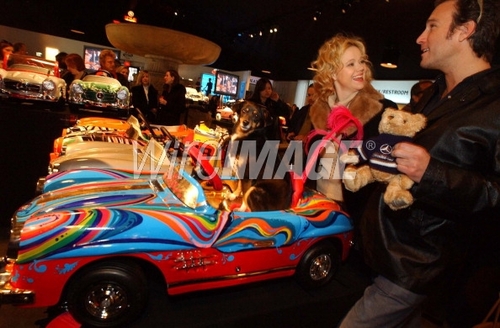 Rhea has had enough, thanks, Corbett.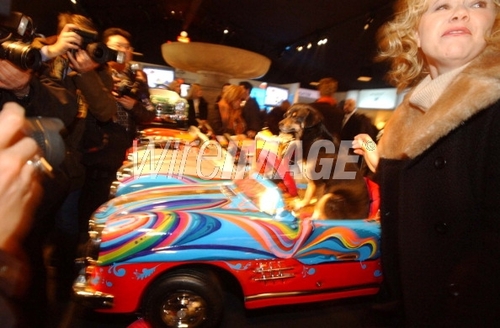 The actual caption on Jennifer S. Altman's photo is worth quoting: "Photographers focus on a dog named Sweetie as actress Caroline Rhea sweeps past them". Indeed. She goes off to pose with "Designer Rafe," who, I have no idea. But I'll bet a dollar that the plaque under that Hermes orange pedal car with the throw and the mismatched weekend bag on the bag says "Rafe New York."Which is a thing he does.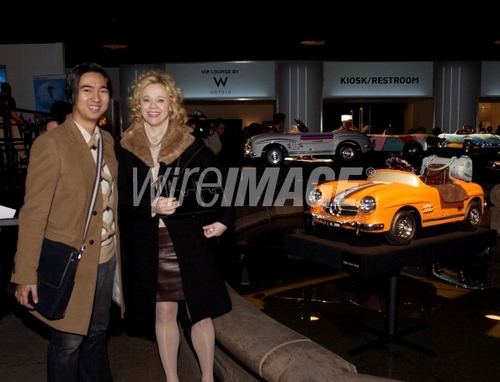 The red&blue stripe car in the background is James Gandolfini's.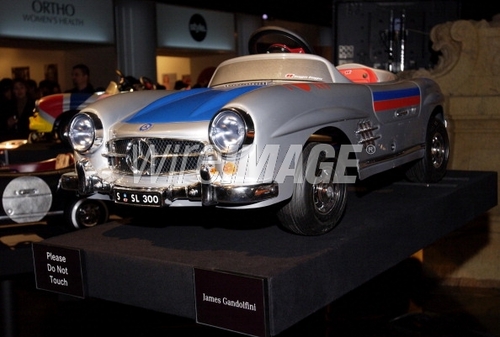 And whaddyaknow, here is John Corbett posing with Gandolfini's car. Framing the other photographers in the shots as she does, Jennifer Altman is WireImage's most astute media critic.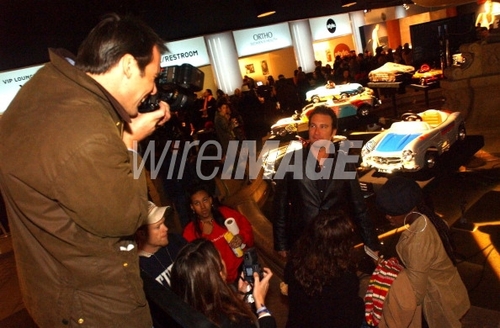 Clearly, the challenge is to stay one step ahead of Corbett. Alright then. Kenneth Cole is the only one who seems to have read the brief, that this is a fundraiser for an AIDS charity, because their pedal car cover is printed with HIV-related factoids and calls to action. Two points.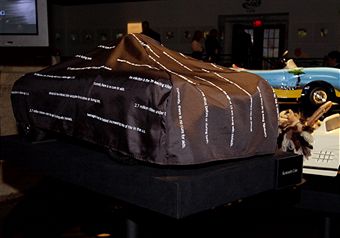 And two points off for the car behind it, upholstered with roadkill, apparently. They would've earned double points, though, if only the beach scene behind that had been airbrushed by Greg of Akron. Or airbrushed at all, for that matter.
Ricky Martin signed the hood with, Olana? Is that his drag name? I have no idea, but by the first day bids for the car had reached $224.50 [from a $175 start.]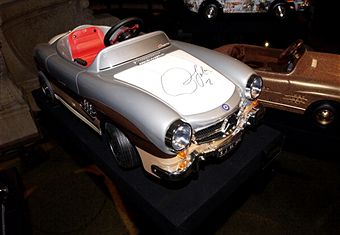 Which really only reminds us we have no idea who much anything ended up selling for, or if it even did. Or if the whole thing was just PR/benefit hocus pocus, and MBUSA cut EGPAF a check.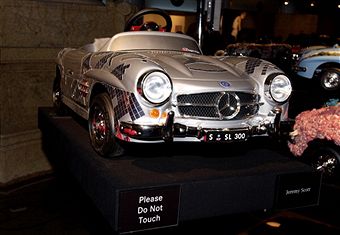 The ever-edgy Jeremy Scott seems to have applied a grid of some sort to his car, perhaps bathroom tile. You can see it more fully in the background of this Betsey Johnson pic. And I think we get a sense for the colors on BCBG's flower mess, too,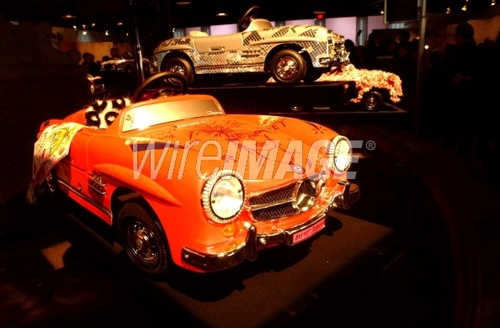 Scott himself attended the event in what looks to be a flair-covered Indian trading blanket poncho.
And finally, for the WireImage set, anyway, Diane von Furstenberg's car seems to feature a jazzy streetscape. I'm sure she would've wrapdressed it if she could've.
The last car so far is a helluva place to end. This hot mess of a 9th grader's bedroom wall is by designer Julie Chaiken, and it resides, as chuckbiscuito is annoyed to point out, right next to the DKNY pedal car, in the Mercedes Museum.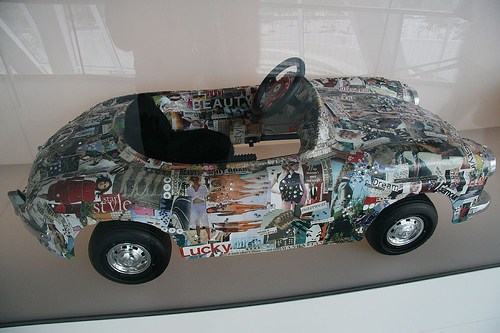 I mean, if they had to buy them because no one else was bidding, that's one thing. But to then put them on display? It really calls the whole operation's curatorial judgment into question.
Anyway, how many is that? Around 32 identifiable images and three descriptions, with 27 designer/contributors, and 20 matches? If we assume that anyone in the photo op--Michael Kors, Carolina Herrera, Cynthia Rowley--did a car, too, then we're up to 30? Plus Corbett, right? 31? So we've lost a little less than half the information about this in ten years, before we even start to ask if anyone even cares.
Which, please don't ask that right now. And yet, after all this, I close all these tabs, and Firefox is still slow as molasses. I'm cursing the inventors of injection-molded ABS as I type. Which, backspace edit invokes beachball, takes ten seconds, it really does feel like a 2002 30gb hard drive world right now.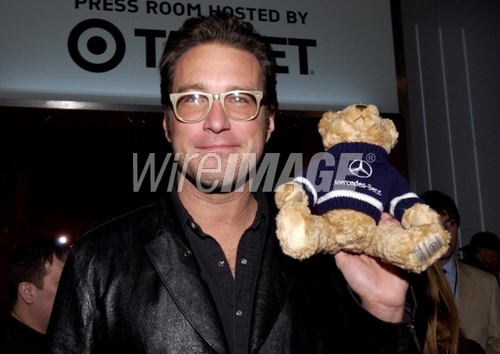 Previously, and deeply, troublingly related: An Ambivalent Report on Mercedes Convertible Pedal Cars