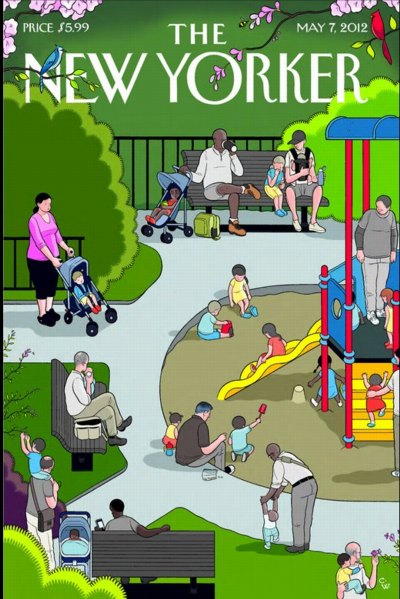 Here is Chris Ware's Mother's Day New Yorker cover. It is almost as awesome as his This American Life animation is disturbing. Oddly, no Bugaboos.
UPDATE: DT reader GFR sent this awesome rant this morning just as I was posting. Here it is, with his permission, and my thanks:
I have always had mixed feelings about Ware. His schlubby, overly self-conscious but highly unmotivated characters seem so calculatedly anti-heroic as to be wholly uninspiring. On the other hand, he is an amazing draftsman - and check out the gorgeous compositional details like the cherry blossoms in this piece. Stunning.

If only he would populate his world with a genuinely diverse cast of characters rather than the stand-ins for a weak sense of self-worth and slowness of life that occupy most of his books and images. For example, this cover is gorgeous, but I want to buy a cup of coffee for each of the slumped over, lethargic dads. Or take away the Ritalin they all must be stealing from their kids. I mean, seriously, not a one of them is moving faster than a shuffle.

Their stillness is also weirdly self-conscious, but not self-aware. It's a shame because the overall dull tenor of the cover makes an otherwise heartfelt gesture like the dad in the bottom right corner showing his kid the flowers seem more dull than heartfelt.

And I'm not sure what to make of the pseudo-progressive assumption that Mother's Day is about dads taking the kids from moms, which implies that moms have them the rest of the time and therefore want to spend mothers day away from the kids. My wife wants nothing more than to be away from work and with the whole family on Mother's Day.

Or maybe I'm just cranky this morning.
Hmm, since you put it that way...
The Blown Covers of Mother's Day [the awl]
The New Yorker | Table of Contents, May 7, 2012 [newyorker.com]