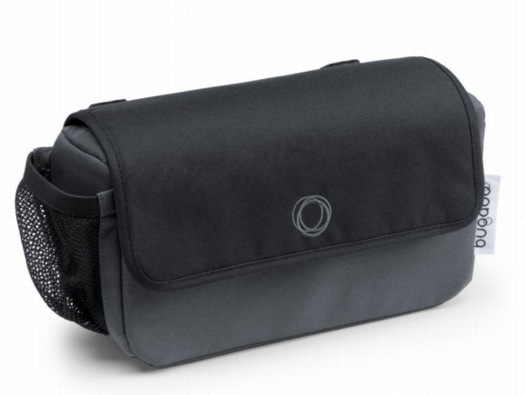 We don't do PR freebies around Daddy Types, and no giveaways. Except sometimes, when some sweet PR swag slips through the cracks.
Like the fine-looking Bugaboo Universal Organizer that showed up unannounced a little while back, which was stocked with goodies. Which I will not keep, but instead, give away this week to one lucky commenter on this post, chosen at random on Friday evening, 8pm EST.
You don't need to follow DT on Twitter [though you could, @daddytypes]. And you don't need to friend DT on Facebook, because no. And you don't need to click through the link below before doing your Amazon shopping, to see how neatly the Organizer fits on the back of the stroller, thereby giving DT a small kickback on whatever you buy. [And anyway, good grief, how could you shop online after reading that warehouse wage slave story?]
But if you do have some relevant info, perhaps you can explain just what the hell is up with coconut water, because I tried it, and it sucks. It tastes like the water that comes out of a coconut. And then run through a radiator.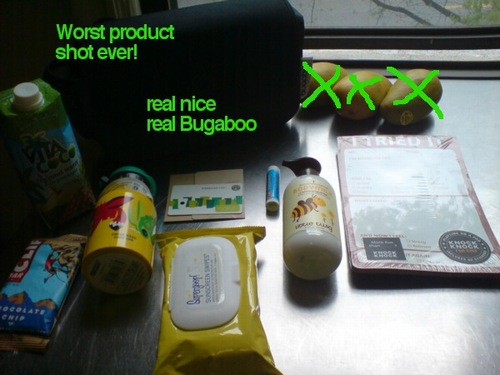 Anyway, in addition to the very nice, compact Organizer [a $29.95 value], the lucky winner will also receive the rest of the bag's swagtastic contents, minus the coconut water and the CLIF bar, which I ate, thanks, and those champagne mangoes in the back, which are not included, and anyway, they are gone, and were delicious:



Supergoop SPF30 sunscreen wipes, which I'd actually forgotten were in there, otherwise I sure would've taken them to the Virgin Islands last week, and which, whoa, really? $25!


A Playtime Pad from Knock Knock, for takeoff and landing, $8


A kid-size steel bottle from that good Swiss company, uh, whatever, you know the one, probably $20 or so [update: yeah, SIGG, and it's only $15, so]


Some high-quality lip balm, I'll have to look these two brands up again after the kid's asleep, $3? $4? [update: Shaka Laka Lip Blaka, which, bless their hearts, is from Da Biggah Island of Utah. All the K's are for Kaysville. $2.]


and a Starbuck's Card with $10 on it, I just scraped the sticker off and checked.
So that's $80, easy, right? Probably more like $90? For making a wisecrack about coconut water? How can you resist? Share all the wisdom you like, but one entry per person, please. And make sure you use a valid email address so I can contact you if you win. [Your info won't be public, or used for anything else. It's the least social media marketing-optimized giveaway ever!]