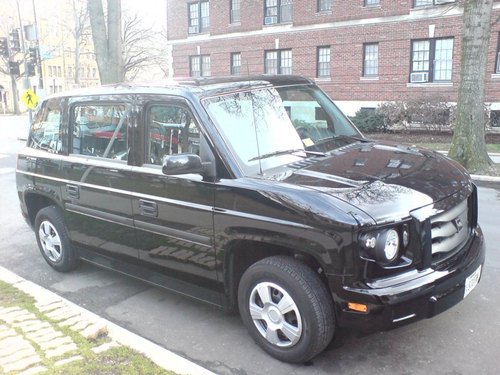 Whoa, what is this thing?
I spotted it the other day in DC, and my first assumption was it was a London taxi, brought to the US, like the few in Manhattan, as a self-conscious real estate agent's limousine.
Then I got closer, and no. It's probably about the size of a classic GM van, but it feels bigger, stockier. And it looks, obviously, like the love child of a Hummer and a Honda Element.
The rear seat is certainly configured like a taxi, though, with a bench seat and about ten feet of legroom. I'm interested in buying one, because it looks like I could park a Scion inside it with room to spare.
The grille badge says VTG, which turns up nothing for me. The rear badge, which I figured I woudln't need to photograph, was like, VR-1 or something. Really does bug me when I can't Google it out online.
UPDATE And it is the VPG MV-1, the first purpose-built transport solution for the universal accessibility market. [thanks dt sr giant vehicle correspondent jjdaddy-o]