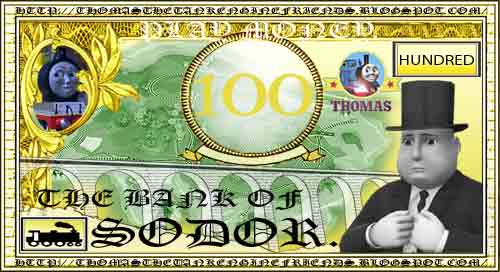 image: via seo blog thomasthetankenginefriends
Speaking of selling out babies, the announcement that, as anticipated, senior executives of HIT Entertainment will be leaving the company when its acquisition by Mattel is completed, led me to this awesomely written article on the deal last fall.
HIT was originally known as Henson International Television and was best known for such preschool IP [intellectual properties] as Bob The Builder and Barney when the investment firm Apax took it private in 2005. The $680 million sale price in October 2011 was disappointing.
But who cares, because honestly, I could read trade journal lingo like this all day long:
The 60-year-old Thomas brand stands as the centerpiece of the deal and will be integrated into the company's top-five core brands, which also include Fisher-Price, Barbie, Hot Wheels and American Girl.

"Thomas is a franchise just like Barbie and Monster High is a franchise, and now we're in a position to own it in perpetuity," said Mattel chairman and CEO Bob Eckert in a conference call this morning.

Aside from the Thomas & Friends property, which currently ranks as the number-one licensed preschool brand in the world, the deal will place big names like Barney, Bob the Builder, Fireman Sam and Angelina Ballerina under the Mattel umbrella.

With more than US$180 million in annual revenues, HIT represents one of the largest independent owners of preschool IP. And with more than half of the Thomas & Friends revenue generated from non-toy products, the acquisition will marry Mattel's global marketing, distribution and brand management capabilities with HIT's global programming and licensing initiatives.

From a content standpoint, the brand reaches roughly one billion households worldwide through programming and DVDs, and Mattel has outlined plans to make Thomas even more relevant in TV, digital and live events businesses that will naturally extend into toys.
Because every time a kid coos over his favorite preschool IP, an L&M exec who's been working hard from a content standpoint to make that franchise more relevant to TV, digital and live events that naturally extend to toys gets his wings.
HIT's Top execs to leave company [kidscreen]
Thomas to be integrated into top-five Mattel brands [kidscreen]
Previously, related, from 2007: The existential and quantitative implications of Yo Gabba Gabba going prime time