There sure are some fascinating kid-related things coming up this weekend in the 20th century design sale at Boston-based auction house Skinner. But first, the stuff you might actually want to bid on:
RESULTS UPDATE: Hah, or not. None of the lots mentioned here sold.
Lot 635: 10 Palaset Storage Cubes by Ristomatti Ratia, est $400-600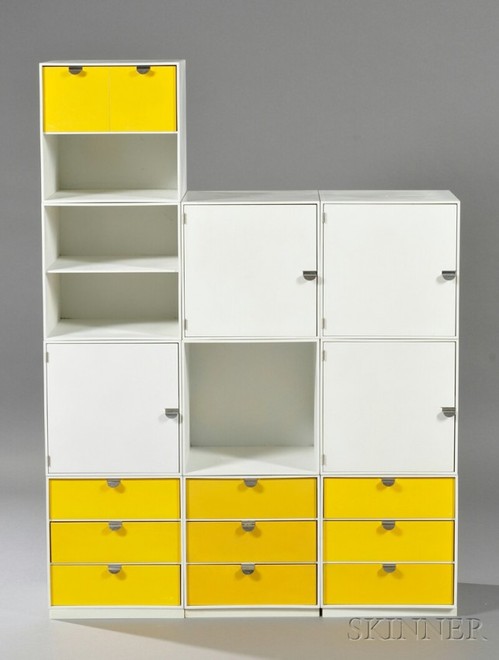 I almost feel like I shouldn't be publicizing this, because I want to bid on them myself. Ratia's parents founded Marimekko, and the Palaset cubes were sold in Conrans and such in the 1970s-80s. This huge set of 27 cubes sold for $910 in 2007, so maybe the estimate's not too low here after all.
Lot 595 Pair of Alexander Begge Casalino Chairs, est. $250-350
The estimate for these Casalino chairs, on the other hand, whee-oo. I bought four for $100.
Lot 776: Victor Tiede Game Table & Figures, c. 1986, est. $300-500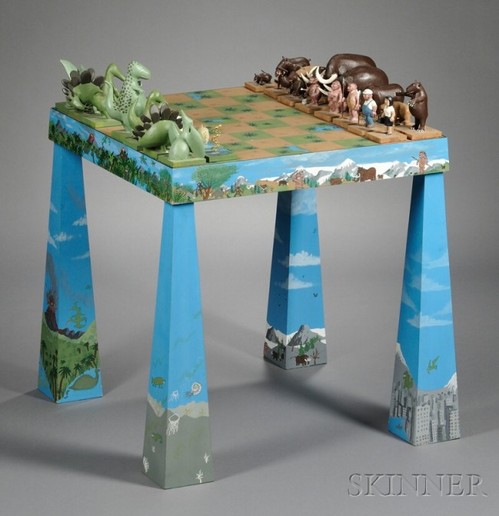 I love the description: "Square top on pyramid legs paint decorated with the artist's view of the life cycle of creatures and humans, the checkerboard top accompanied by thirty-one carved wood figures, starting with the helix moving through the dinosaur age and ending in a Japanese tourist, missing Godzilla."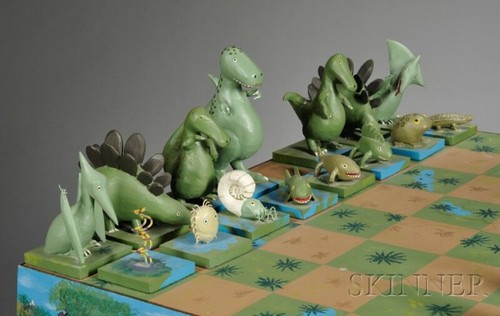 Of course it is.
Maybe it's cheesy in person, but I think this is awesome, right down to the missing Godzilla, and the Japanese tourist as the pinnacle of human evolution. So 80s. Tiede, a self-taught Saskatchewan artist, is still working, so maybe you could get him to make a new Godzilla, or whatever the 21st Century equivalent is.
And I saved the best for last:
Lot 626 Four Alan Siegal "Golden Child" Chairs, c. 1986 est. $1,000-1,500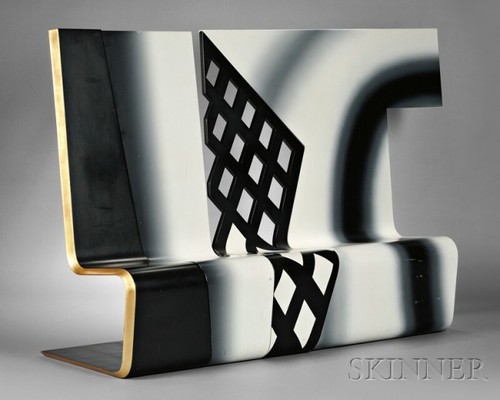 First off, wow. And I thought that chess table was the ultimate 1986 artifact. This sculpture/painting/chair set is spectacular in every PoMo, New Wave, Beeteljuice, Robert Longo way. I found reviews of Siegel's "chair art" as early as 1967, and his Google Image/auction are pretty random-cheesy, but this, the Golden Child, looks like a masterpiece of its genre and era.
Except.
"Representing two parents and two grandparents, originally sold as a set that would have included a child's chair."
Yes, that notch on the airbrushed right side apparently once held a kid-size chair. And now it's gone. I'm sure there are a dozen boring explanations for what happened to it. But combined with the whole sale thing, I can't help think of the saddest ones, of the "for sale: baby shoes. Never worn" variety. Sorry for the buzzkill.